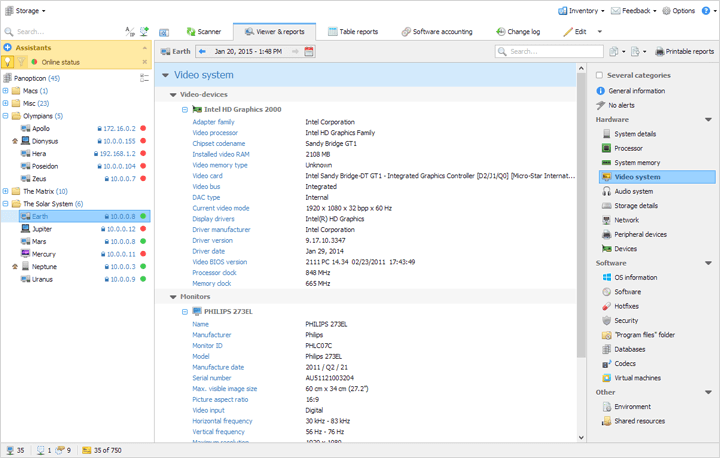 Network Inventory Software
Introducing Total Network Inventory 4, PC audit and software inventory management solution.
Network scanning
Windows, OS X, Linux, FreeBSD, and ESX/ESXi-based computers and servers can be scanned without preinstalled agents – you just need to know the administrator's password. Scan single nodes, network address ranges, or Active Directory structure.
Inventory management
Each computer only takes up several dozen kilobytes in the centralized TNI storage. Group assets, add comments to them, and attach additional information. Total Network Inventory 4 will show your network in all its beauty!
Reports
Create flexible reports on different data categories. Build table reports with hundreds of available data fields using the convenient tool. Reports can be copied, exported, or printed, and the search feature shows the results before you even finish typing.
Change log
Detect and browse changes in hardware and software. Know when an application is installed, uninstalled or updated on any computer in your network, see hardware being connected or removed, disk space usage dynamics and much, much more.
Scan scheduler
Schedule data collection. Create both single postponed scan sessions and repetitive tasks: every day? on Fridays? on first Monday of every month? Scan different sets of assets at different times and keep your inventory up-to-date.
And more...
Create a database of your network users; store a number of passwords for different assets and protocols; follow the online status of assets in real-time. These and many other features of our network inventory software will save you a lot of effort and stress during network audits.
Users love TNI
Rated 4.6 by 140 reviews
★★★★
★
Scan everything
What does it take?
Administrator password only. No preinstalling agents on the remote computers or any other preparations for a network audit. Install Total Network Inventory 4 on a single computer and you will possess the information about your whole network in a few minutes.
Really smart scanner
Just tell the program what you need to scan, and it starts to discover your network: finds all the nodes in IP range, shows the list of workgroup computers, and extracts the domain structure. Select the nodes, specify logins and passwords for single assets or groups, and click Start scan.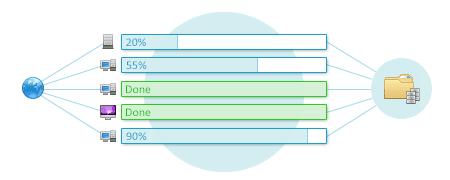 In just a few minutes, the scanning is done, and the gathered data is placed into the TNI storage. Your PC and Mac inventory is ready to use.
Scheduled scanning
Create a list of assets that you need to scan later or repeatedly and tell TNI when you want them scanned. Create complex temporal triggers using the scheduler:

You can create an unlimited number of scheduled tasks with different triggers. Keep your data up-to-date automatically!
Centralized storage
TNI storage is a regular folder on your hard drive. Each computer is represented there by a file about 35 KB in size. You can easily move these files to another storage or back them up. By sharing the storage folder, you can work with it from other computers.
Everything you need for hardware accounting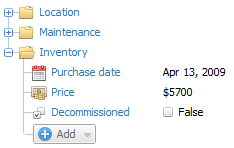 Attach notes, inventory numbers and additional text, as well as price and date fields to your computers. All of the data will be stored in a single place, always at hand. Hardware inventory has never been so easy and flexible.
Network at a glance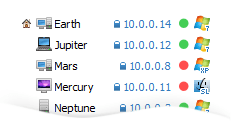 The network tree can display various data: network name, IP address, inventory number, icon and name of operating system, online status indicator, and much more. Our computer inventory software automatically detects virtual systems and marks them. All of this data can be used for searching: if you know anything about a computer, you can find it among hundreds of others in a moment!
Keeping data organized
With our network inventory tool, you can examine each scanned computer as if it was in front of you.
You will find detailed information on hardware, operating system, installed software, antiviruses, user accounts, etc., in the convenient categories of reports.
Include any number of computers and categories in a single report.
Table reports
Report constructor allows for presenting any asset inventory data in a convenient and descriptive table. What data will appear in your reports is totally up to you.
Instant search
Search results show up as you type in your request: don't waste mouse clicks!
Printing and exporting
Any report can be printed in a brief or full form, copied to a spreadsheet processor or exported to PDF, RTF, ODT, HTML, and other formats.
Barcodes for every occasion
Scan and print your own barcodes to inventory and label the office equipment. This will markedly increase asset search speed and get rid of mistakes inherent to manual efforts to identify devices.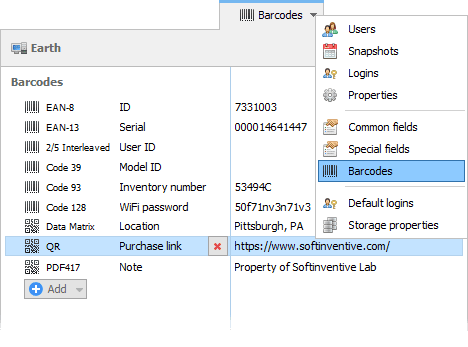 TNI 4 supports all popular types of linear and two-dimensional barcodes. QR, PDF417, Code 93 and other types can be utilized for different purposes and to store different amounts of data.
Connect an external hardware or software scanner. Total Network Inventory allows you to set a hotkey that will initiate a search for assets by barcode.

Enter and save manufacturer barcodes, such as hardware models and serial numbers. You can add an unlimited number of barcodes to any asset.
Generating barcodes from templates is also possible. This enables the system to automatically create a barcode that contains a unique number or useful information about the asset, such as an inventory number, device type, network name or location.
Complete control over the hardware health indicators
TNI 4 offers special monitoring-based features for Windows systems. With each scan, the network audit tool polls vital hardware sensors.
Now the temperature

, fan speed

and power supply

readings are at your fingertips.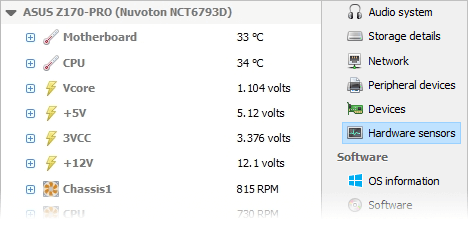 Alerts and Assistants help to ensure the constant operation of servers and workstations.

If the processor or motherboard overheats, HDD space runs out, or if a fan stops functioning or starts spinning too fast, it won't go unnoticed.

Alerts and Assistants allow to detect the issue in time and address it before it snowballs into a serious problem that costs you money.
See what's going on in your network
Each time you rescan a computer TNI creates a new snapshot of it. Change log compares all those snapshots and presents you with a comprehensive list of events: if anything was

Added,

Removed or

Changed, you'll see it here.
You can see hardware being moved around…

…software being installed, uninstalled or updated…

…hotfixes being applied…

…services changing their state…
…and a lot more!
The log features instant search and flexible filtering capabilities, and is available in the printable report form: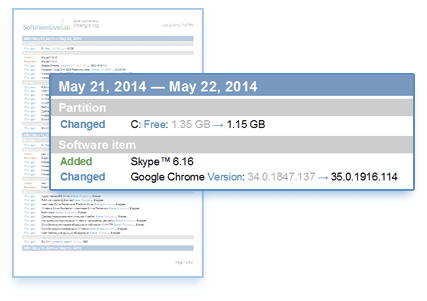 Map your network
Visualize the structure of network devices the way it's convenient for you. Total Network Inventory 4 Professional users can benefit from our new network map editor.

Create a single map or split your network into many segments and levels, for different company sites, office floors or other purposes.
Drag and drop assets and groups from the storage onto your map, arrange them the way you want and render the network structure using links of various types.
Shapes and backgrounds
Load any images onto your map or spawn preset shapes and rotate or modify them to your heart's content. For example, you can make the shape an outline or fill it with any color you like and choose the transparency level. If the objects are overlapping, the editor allows you to bring objects to the fore or hide them behind others.
(Click on the images to view demos)
Broad possibilities
Search for and manage your assets right on the map, it's easier that way! You can ping, rescan or perform an action using the context menu.
The map size is not limited. Unleash your imagination!