Top 10 Network Inventory
Software in 2020
An inventory of network computers and devices is an essential component of equipment maintenance in organizations of any size. Computer accounting allows you to keep equipment up to date and avoid unnecessary expenses for its maintenance.
Manual collection of information from each device has long been out of date due to the effort and time required. Specialized software can pull the latest, most accurate information in the shortest time possible. When installed and configured, such software with its flexible reporting mechanisms will let you obtain and browse a detailed up-to-date summary for each device, as well as learn of any changes in the network that require your attention.
In this article, we take a look at the most popular asset inventory solutions that are available on the market in 2020. We hope that these high quality network inventory tools will help you to determine the most suitable solution for your business, and pick the best network inventory software.
---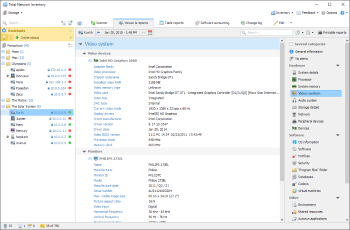 The standard edition of Total Network Inventory 4 provides the full functionality for taking inventory of various network devices. The program is easy to set up and feels intuitive from the get go. At your disposal you have the ability to scan Windows, OS X, Linux, FreeBSD and ESX/ESXi systems, as well as network devices using SNMP and Telnet protocols.
All information obtained from scanning can be displayed in customizable reports that are easily exported to a format of your choosing.
Total Network Inventory also allows you to customize scheduled reports and scans which automates these routine tasks.
Separately, we would like to draw your attention to the Change Log. This mode allows you to obtain maximum information about any changes that have occurred with your assets since the last scan.
The license cost starts at $90 for a 25-device license.
Pros:

Complete tools for network inventory
Supports a wide range of devices and protocols
Easy installation
User-friendly interface
Low cost
Cons:

A Windows-only application
---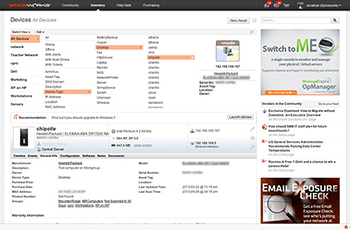 Spiceworks is one of the most popular free web-based inventory solutions. This application provides a convenient and intuitive network scanner, effortless filtering of gathered information and a tool that compares devices.
The necessity of using the web interface leads to certain limitations in visualizing some of the processes and customizing the program to your needs, but this issue is offset by an easy and, most importantly, multi-user access to data.
It's important to also point out that in addition to inventory, the program has tools for monitoring, detection of cloud services, creation of procurement lists and customer support (helpdesk).
License cost: free (monetization through advertisements).
Pros:

User-friendly
Freeware
Ability to expand with monitoring add-ons, procurement list and helpdesk
Cons:

Web access only
Limited customization
Ads
---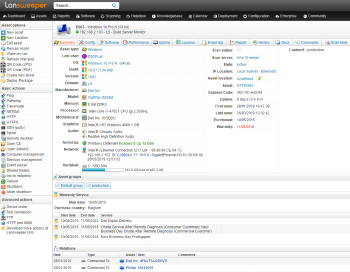 Among the multitude of paid solutions, Lansweeper stands out with its extensive features and continues to enjoy high popularity. Lansweeper supports fine-tuning of scans and can work with a large number of devices. It offers ample opportunities for setting up and customizing reports, as well as convenient filtering.
As is the case with Spiceworks, the control center can be accessed only through the web browser.
Additional features include an integrated user support module (Helpdesk), the network map editor and some basic functionality for deploying software.
License cost: free of charge for up to 100 devices; and afterwards €1.00 per device annually.
Pros:

Top range network inventory
Versatility (network map, helpdesk, software deployment)
Unlimited customization options
Free for up to 100 devices
Cons:

Web-only access
Fairly expensive annual subscription
---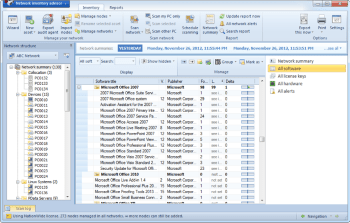 Despite the somewhat outdated interface, Network Inventory Advisor offers a full range of must-have functions for creating an inventory of devices on the network. The application allows you to scan Windows systems, Unix-like systems and SNMP devices. Based on the results of scanning, you can build reports of varying complexity on both hardware and software. In addition, the advanced SAM module in the program allows for managing and keeping track of licenses.
Other features include the ability to detect and collect Autodesk product keys.
Updates within the major version are available for free. The prices start at $89.00 for a 25-device license.
Pros:

Complete core functionality for network inventory
For Windows and OS X installation
Autodesk product key discovery
Cons:

Obsolete interface
Infrequent updates
No Web-GUI
---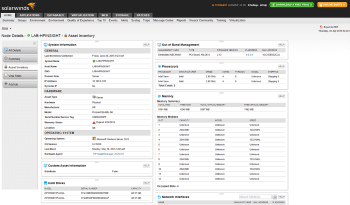 Solarwinds stands out somewhat from our software top list both in price and in functionality. Still, this software is rather popular and is used in large corporations to solve a wide range of tasks. Many also consider it one of the best software inventory tools.
The reviewed product features a number of tools for network asset inventory and monitoring, software license management, real-time service and process monitoring, and also automatic execution of scripts when monitored values deviate from the norm.
Solarwinds also provides a separate module for creating a network map. The potential it offers is truly outstanding, including a scalable world map where you can create local network maps for each branch of your organization.
License cost starts at $5,995.00 for a license for 25 devices.
Pros:

Wide capabilities for inventory and monitoring
Lots of tutorial videos
Multi-user access
Cons:

Access through web only
Very expensive
---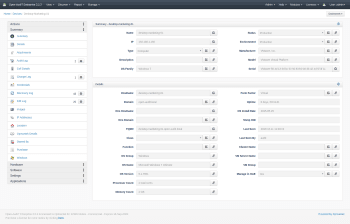 Open-AudIT is another open-source inventory software. This app is quite popular, in part because it offers a completely free version that provides the basic functionality for asset inventory tasks.
Overall, the program boasts a very pleasant and easy-to-use interface, and the network map supports integration with Google Maps, which is not common among its competitive products.
Open-AudIT collects information about Windows devices using a WMI query, and this means that in some cases only incomplete information can be obtained, compared to low-level device scanning. However, such software doesn't require drawn-out configuration efforts and allows you to quickly poll the equipment fleet with only minimal initial setup.
Advanced functionality, among them the network map builder, export of assets, and custom reports are available only in the commercial version of the program, which also includes full customer support.
License cost: free Community edition; with the starting price of $1,199.00 for the Enterprise license for 100 devices.
Pros:

Full primary functionality for network inventory
Free option
Cloud auditing
Cons:

Access through browser only
Only agentless data collection
---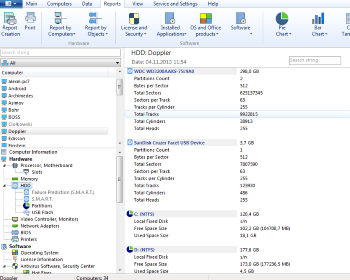 Despite its interface from the previous generation, Network Inventory Explorer provides a complete set of inventory tools. Like the other products, the program features a scanner, a report builder, and tracking for changes to network devices. Information can take the form of charts and histograms. Support for barcodes is also implemented.
One distinctive feature of 10-Strike's solution is the full support for product lifecycle management, which can be the decider when choosing which inventory package to acquire.
In addition, the program offers a unique feature: The Software Library. The library contains information about more than 100 000 programs, which makes 10-Strike a very interesting solution for network software inventory.
Access to the inventory data can be obtained both directly in the program itself and through a browser, which greatly improves usability.
Licenses start at $100 for a 25-computer database.
Pros:

Optional web interface
Life cycle management
Inexpensive
Software database
Cons:

Only for Windows installation
Obsolete interface
---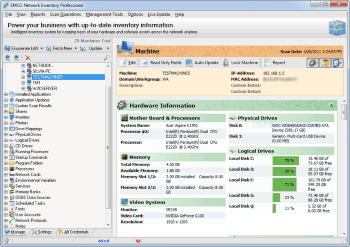 A developer firm from Iceland created this product back in 2007 and is still developing it. EMCO Network Inventory is visually outdated, but has not yet lost its relevance. The program is very stable and has all basic functionality for creating an inventory of Windows devices.
In addition to the typical features for collection of information about hardware and software from assets on your network, this network inventory management software has the ability to scan remote registry keys and file systems, which isn't something all rival products can do.
Updates within the major version are available for free. The license cost starts at $89.00 for a 25-computer license.
Pros:

All essential Windows inventory features
High stability
Cons:

Windows inventory only
Outdated interface
---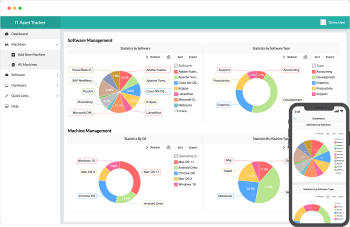 IT asset tracker is an inventory module that is available as part of Zoho's multi-purpose solution. Zoho software is something like a "Swiss army knife" for managing various business areas including IT, but made in India. The IT Asset Tracker module allows to keep track of equipment and software.
It's convenient to visualize statistics on various data. Just a couple of clicks will create pie charts for a particular dataset.
The disadvantages of this system include a complete absence of a network scanner which leads to a significant time investment into entering information.
License cost: free for the asset tracker app. Zoho Creator costs at least €10.00 per month.
Pros:

Integrates with many other modules
Cons:

Only browser access
No network scanner
---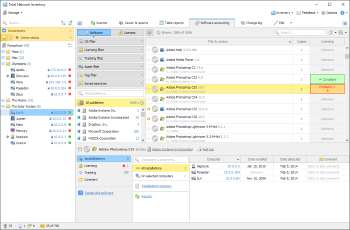 Total Network Inventory 4 Professional incorporates the full functionality of the Standard license and will suit those users who want to get the all-encompassing functionality in one application at a reasonable price.
In addition to all the basic tools, this edition of the program allows you to create a detailed network map and keep track of your software and licenses.
The network map editor is very easy to learn. Just drag the assets onto the map and create the necessary links between them. You will be able to quickly put together an overall map, a schematic, or even multiple smaller maps for each office or floor. The map allows for monitoring the device uptime and keeping track of various assets in a networked infrastructure. You can also connect to devices and execute simple commands.
At first glance, the software and license accounting module may seem more complicated than other program sections, but its benefits can hardly be overestimated. Store license keys and documents, information on licenses for any software, be notified of automatically calculated license status and get warned ahead of maintenance period expiration. Combined with the detailed browser for all installations equipped with convenient filters, this module provides comprehensive information regarding all programs present on your computers.
The license cost starts at $135 for a 25-device license.
Pros:

Easy installation
User-friendly interface
Software accounting
Network map
Cons:

A Windows-only application
No cloud integration