Blog
Dear friends, today is a joyous day for everyone in Softinventive Lab! We used all the monumental experience and knowledge we've accumulated over 10 years, thought long and hard, argued, developed plans and finally created a
completely new product for you
, system administrators. This is our vision of what an ideal administration tool should be.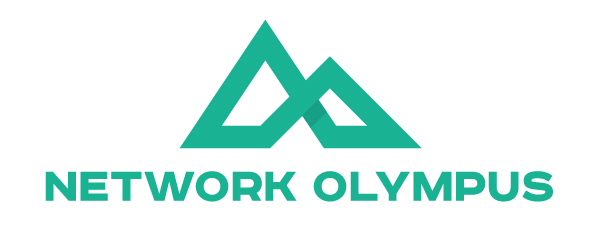 Network Olympus. What should a first-class product for sysadmins be?
The idea of creating
Network Olympus
didn't come to us overnight. All the experience we've gained while working on Total Network Inventory, Total Software Deployment and Total Network Monitor has led us to desire to create a more flexible, versatile, all-in-one product. It's designed to combine all our previously developed features in one project with a
convenient web interface
. Network Olympus is being created under the slogan:
"Simplicity and efficiency"
. You don't need to grapple with the program for long hours and days, watch training videos and talk for hours with the support team. A simple, intuitive, straightforward interface lets you quickly become familiar with all the available features. You can see for yourself today.
Network Olympus: Monitoring
Control over the operation of key elements of the corporate network is one of the top priorities for a system administrator. For the most effective solution of such problems we have created a
monitoring module
. The market is full of very good and powerful monitoring products, but we're not just making another one of them. We strive to create something special: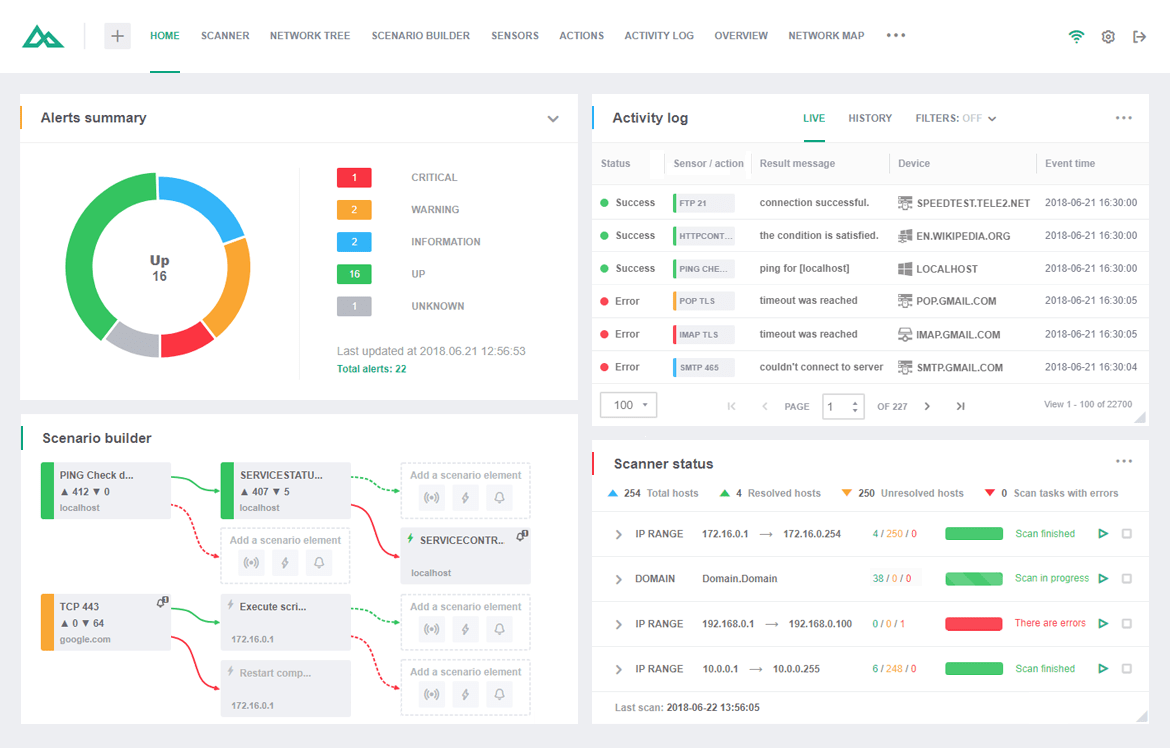 Network Olympus is effective and concise from the first minutes! The basic logic is pretty simple:
device – sensor – notification – action
. That's how it works: quick and efficient. Are you looking to create your own custom logic for
sensors
and
actions
? Welcome to the
scenario builder
, the centerpiece of Network Olympus: Monitoring! It is here where you can create various logic chains, as well as connect checks, actions and notifications with each other. Does it take much effort to do this? Not at all! Creating scenarios doesn't actually require writing scripts. All logic chains are visualized and can be altered at any moment in just a few clicks. Unleash your imagination and
automate
the problem solving in your corporate network. Network Olympus will itself restart the service or server, launch the desired application, or simply remind you of a friend's birthday and send congratulations by e-mail. The possibilities are truly limitless! All the stats for each check, action and notification are collected with precision by the program and stored in the
activity log
. At your service is a detailed history of events, all kinds of filters and the ability to manage sensors directly from the log. For easiest perception, all devices and connections between them can be promptly displayed on the
network map
.
Comfort and clarity in everything
Easy deployment: everything you need to get started right away is already in the installer. You will immediately get access to the full functionality of Network Olympus: Monitoring after the installation is complete.
Ease of use: end-to-end navigation, panels customizable for your needs, rapid transitions and the ability to edit any elements you've created from anywhere and at any time.
Web interface: gain access to the program from any stationary or mobile devices wherever you are!
Take part in beta testing and receive gifts!
Your feedback is very valuable to us. Everyone who actively participates in the beta testing is
guaranteed a gift
in the form of a free license!



Your mountain is waiting, so be on your way and soar to new heights! Try the beta version of
Network Olympus: Monitoring
right now:

Hello, friends! Sensational news from the Total Software Deployment team:
TSD 3 has arrived!
The number of changes made was so great and the improvements so evident that we decided to up the major product version. We're confident that you'll be pleased with our efforts. After all,
Total Software Deployment
will now successfully handle the deployment of an even wider range of installers, the list of software supported for uninstallation was expanded by 50%, and the interface became more convenient and comprehensible. Just look at this impressive list of changes:
New

New deployment setting in the Software passport: installation context. It allows to specify under which user will the software installer be run.

New

New deployment setting in the Software passport: deployment verification file. It allows to check if this file was created (or updated) on the remote computer as a result of the deployment.

New

Uninstall support for software installed using the following installers: InnoSetup, NSIS, Smart Install Maker, Excelsior Installer, Ghost Installer, Install Aware, WinRar Installer.

New

Support for uninstalling all versions of MS Office.

New

Support for REG files in the software storage.

New

Ability to add multiple programs at once to the software storage.

New

Hint panels in the software and network trees for getting started with the storages.

New

Software tree and network tree can now be hidden. The storage loading progress is now also available in the status bar.

Improved

Macro deployment engine.

Improved

Macro deployment of MSI packages now works on computers where interactive services are disallowed.

Improved

Bitness of the interpreters that are used to execute scripts now matches the target system bitness.

Improved

Software passport revamped.

Improved

Software with unspecified bitness and installation context is now marked with the /!\ icon in the software tree and the software deployment list.

Improved

Adding of single-file installers made easier. Now it's enough to just select the installer(s) in the file open dialog.

Improved

The size of the deployment and uninstallation logs can now be changed.

Improved

Double click on the program in the software tree now adds it to the software deployment list.

Improved

Double click on the computer in the network tree now adds it to the deployment targets list or to the scanner's task list (depending on the selected TSD mode).

Fixed

Deployment of software that requires the environment variables of the user.

Fixed

Interaction with the software component selection list during the Macro deployment.

Fixed

Freezing that occured with some installers at the very beginning of installation when deploying using the Macro method.

Fixed

Working with some MSP files.

+ Many other fixes and improvements.
The full changelog can be found on the update screen in the program itself.
Deployment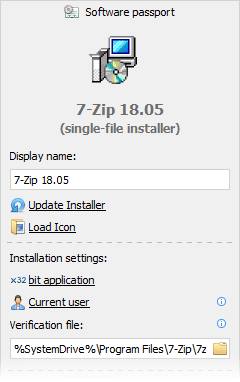 Several changes were made to Software editor's Software passport. The first thing you're bound to notice is a more convenient placement of elements in the passport. There are two new settings too.
The
Installation context
setting allows to select with what privileges the deployed software installer will be run. This setting is very important for the correct installation of programs that require a particular installation context, as well as for executing scripts. Select the
local system
installation context for programs that are installed for all users on the computer. This is the simplest and most common scenario, so we recommend to use this context most often. However, there are programs that can be installed only for the
current user
, and that's the name of the context that you need to select in these cases. As you may have already guessed, someone must be logged into the system at the time of deployment for there to be a current user. The final option for installation context is
network
administrator
. It's intended solely for running scripts on the remote computer when they require access to remote network resources. Setting up the
Deployment verification file
will allow you to save valuable time and make sure that the program was installed correctly without rescanning the target computers. Just specify the path to one of the files that must be created or updated on the remote computer during the deployment process. TSD will check it and show the result in the deployment log. If you deploy scripts, then you can verify their execution as well in this way. Significant improvements were made to the
Macro method
and positively affected the deployment success rate for packages created using this method. Now there's full deployment support for computers configured not to allow interactive services (the default setting for Windows 10 and 8.1), and more elements of the installer's interface can be interacted with when recording a macro. All these improvements allow us to safely recommend that you use the Macro method in all cases where the Silent method doesn't allow you to configure the installation exactly the way you want it. And last but not least in this section: after numerous requests,
.reg files
can now be added to the software storage for their further deployment.
Uninstallation
As we've promised, the list of installer formats supported for uninstallation was heavily expanded. Right now, software uninstallation is supported for all popular types of installers. Specifically, the update adds support for
InnoSetup, NSIS, Smart Install Maker, Excelsior Installer, Ghost Installer, Install Aware and WinRar Installer
(device rescan required). We've also paid special attention to
MS Office
: uninstallation of any packages of this popular software is now fully supported.
Interface
In the end, we'd like to draw your attention to the various improvements in the user interface. For example, both storage trees can now be hidden, and the size of the deployment and uninstallation log can be changed manually to make it easier to work with the deployment and uninstallation desktops: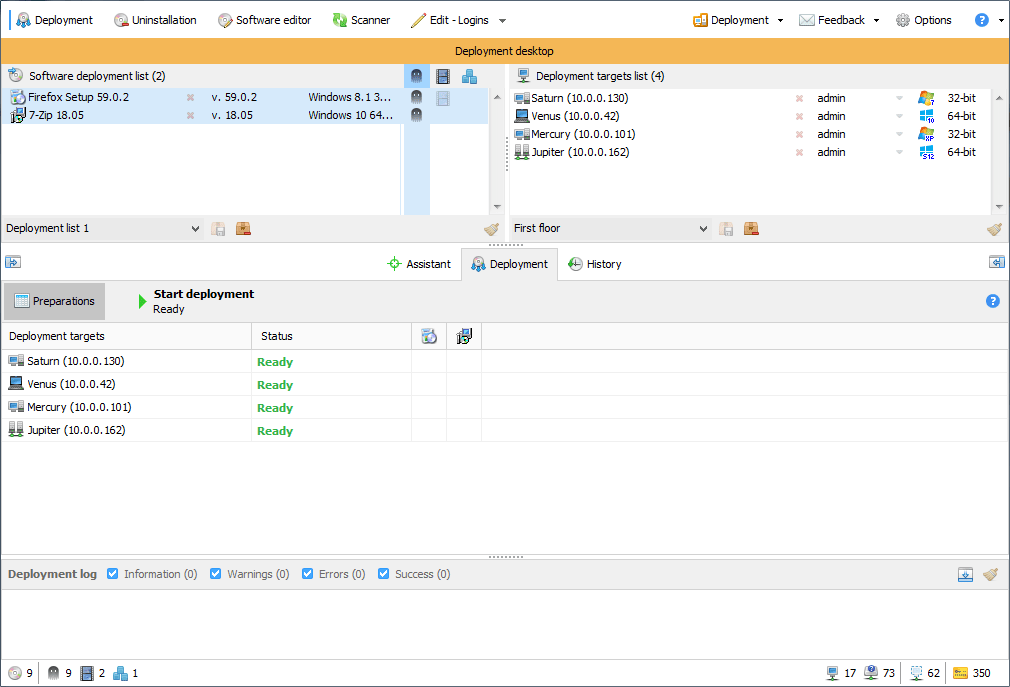 The process of
adding new programs
to the software storage is no longer unnecessarily cumbersome. Now you can add as many installers at a time as you want, and less actions are required of you overall. For new users, we've added useful
hints
that will help them to get started with TSD.

And so now you should be aware of all the new things that were added in the third version. Have we managed to surprise you with anything? Download the update and try them for yourself. We're positive that you won't be let down! The update is already available to all users via the usual
link
on our website or in the program itself (Help – Check for updates).



That's everything for today. Keep following the news: there's a major pleasant surprise in store for you ;-)
Dear readers, are you ready for Friday? July is coming to a close, and that means it's almost time to celebrate
System Administrator Day
! The holiday is on
July the 27th
. We'd like to sincerely congratulate all admins on this wonderful day! You are the true heroes, quietly preserving the peace and order in corporate networks. May the force be with you! We highly value what you do and hope that our products make your work a bit more pleasant. Therefore, once again, we are lowering the prices for all our licenses until
August 3
:
Total Network Inventory 3
Total Software Deployment 3
Total Network Monitor 2
The discount is applied automatically when you order from our site. And what is a holiday without gifts?! Starting
July 23
and during the next
5 days
, we'll be handing out
Total Network Inventory and
Total Software Deployment licenses for 25 devices
to anyone interested. To receive your license, send us an
email
!
-20%
Offer ended on August 3
TNI & TSD 25 node licenses
FREE until July 28