Blog
Hello to all! We've put a lot of time and effort into improving the scanning mechanism, the Windows agent and many other program components. This time we've also paid special attention to improvements requested by our users. Please bid welcome to version
3.6.0!

Updated Scanner
The
TNI scanner
underwent an in-depth tuning and refinement. We've completely rewritten the internal scanning mechanism: increased the stability of the whole process, expanded the network discovery mechanisms and significantly raised the scanning speed for medium and large networks. How events in the scanner are logged and how it interacts with Active Directory have been improved as well, with many other positive changes that will speed up the scanning process and make it more thorough and reliable.
Scheduled scans
will no longer be delayed because the scanner is busy with the previous task. They will start in the background exactly when you've planned!
Enhanced Windows agent
We've added
more features to the Windows agent.
Yes, we mean
tniwinagent.exe
that's used when scanning remote computers from the Scanner tab and can also be run manually to scan the computer. You may also be using this file as an automated resident agent. So what we've done for this new agent version is updated its own scanner, added more fields to be collected and improved the interaction with the SMB protocol. Lastly, now it supports the new FTP/FTPS and SFTP/SCP protocols. All this was done to obtain as complete and reliable information about Windows systems as possible.
You asked, we delivered
In each update we try to pay special attention to fixes and improvements based on your feedback and requests. In
Total Network Inventory 3.6.0,
these changes have affected many parts of the program: interface, reports, temporary files, compatibility with Total Software Deployment, other elements have been corrected and improved thanks to you! In addition, we've finally solved a number of issues that may arise when corrupted files are present in the storage and, by optimizing internal processes, heavily improved the stability of the application as a whole. After these changes, TNI becomes considerably faster and even more stable. Here is the full list of changes:
New

Silent installation/uninstallation mode in the resident agent.

New

Ability to update the resident agent via FTP/FTPS and SFTP/SCP, as well as via SMB with authorization.

New

Support for file sending via SFTP/SCP after the resident agent performs a scan.

New

Collection of information from the SystemSKUNumber field.

New

"Device name" field when exporting the Change log contents in the CSV format.

New

Telnet and ESXi agent versions displayed on the About screen.

Improved

Internal scanning engine was totally reworked, resulting in better scanning stability and increased reliability of network device discovery.

Improved

Scan scheduler now runs in the background, independently of the Scanner tab.

Improved

Auxiliary modules for working with SSH and SSL/TLS were integrated into the Windows agent.

Improved

Sending files via FTP by the resident agent: TLS is always used if supported by the server (explicit mode), and for the implicit mode, specify "ftps: //" in the URL (also applies to updating via FTP).

Improved

Ability to create screenshots when scanning various types of devices that have a web interface.

Improved

Information refresh when filtering the network tree.

Improved

Device type selection lists now have a common look.

Improved

Сompatibility with the network storage in TSD. Also more information is now collected for the software uninstallation module.

Improved

Scanner operation logging system was expanded.

Fixed

Obtaining information about Windows Firewall and Windows Updates.

Fixed

Checking for files when the resident agent is auto-updating.

Fixed

Program operation when the temporary folder is not found.

Fixed

Missing option to delete logins in Edit – Logins.

Fixed

Program doesn't restart after it's closed when the license key is submitted.

Fixed

Rounding of the prices in custom fields.

Fixed

Undefined device status after scanning.

Fixed

Rendering issues when deleting scan tasks.

Fixed

Incorrect rendering of the storage selection window on the Windows classic theme.

Fixed

PCI devices with the 0xFF class not being detected when scanning ESXi systems.

Fixed

Certain unexpected program shutdowns, as well as the issues when working with corrupted files in the storage, were corrected. Overall stability of the program was increased.
PS: Our team is now working on creating a
network map
feature and improving the scanning of SNMP devices. Stay tuned for more updates!
Greetings to everyone who reads the Softinventive blog and wishes to receive first-hand information about our software's new features! Today, the
Total Network Inventory
team introduces a major update, TNI version
3.5.0
. This update significantly expands the functionality concerning
ESXi
virtual servers. And as you can see, much has been reworked and improved:
New

Obtaining information about services on the ESXi server.

New

Obtaining firewall information from the ESXi server (ESXi version 5+).

New

Obtaining software information from the ESXi server (ESXi version 6.5+).

New

Obtaining information about licenses from the ESXi server.

New

Grouping ESXi server devices by PCI class.

New

Obtaining information about the ESXi server's serial number.

New

ESXi agent version that was used to perfrom the scan can be displayed in a report.

New

Obtaining information about the manufacturer, model and serial number of routers when scanning via SNMP.

Improved

ESXi server scan engine reworked.

Improved

Asset pinger operation.

Improved

System error logging engine.

Fixed

Obtaining information about the Network File System type on the ESXi server.

Fixed

Obtaining information about ESXi server's processors.

Fixed

Obtaining and updating the Hostname field when scanning the ESXi server.

Fixed

Obtaining information about the size of repositories on the ESXi server.

Fixed

Methods of using the PingerLib and ADLib libraries changed.

Fixed

Pinging methodology when changing the "Handling of dynamic IP addresses" setting.

Fixed

Display of information about unscanned assets.

Fixed

Updating of ESXi server hostnames after rescanning.

+ Many small improvements in ESXi and SNMP scanners.
Let's review in a bit more detail. The data collection and analysis engine has been redesigned and substantially improved as a result.
TNI 3.5.0 is fully compatible
with the latest versions of ESXi server.
ESXi 4, 5, 6, 6.5
are officially supported. The collected dataset was also heavily expanded: now you can get information about the installed hardware and software, firewall, services, serial number, ESXi licenses and other miscellanea that will give you a complete picture of the scanned ESXi server.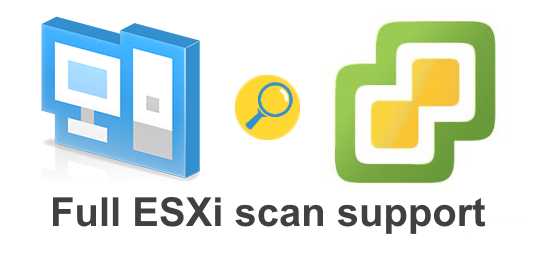 We have thoroughly tested all kinds of configurations and can say with confidence that the chance of obtaining the information from an ESXi server
is now almost 100%!
We would also like to mention another important change, namely
the SNMP scanner upgrade.
Now the information about the manufacturer, model and serial number of most devices can be collected without the need to enable the full SNMP scan in the program settings. And so I bring this blog post to a close. Until the next one!
Dear readers of our blog! Today's post is all about the new version of
Total Software Deployment.
In this update, we bring you the expansion of the existing functionality and enhancements that will give you additional freedom when using the program. The new
TSD
will give you the ability to uninstall more software of various types, and any installer can now be updated right in the Software passport. Here is more or less the full list of changes:
New

Ability to uninstall any software that stores a silent uninstall string in the registry. This string is collected when the assets are scanned using the updated scan agent.

New

Software installer can be updated from its passport.

New

Context menu in the list of installed software (includes a new ability to rescan assets directly from the list).

Improved

Test run algorithm and recording algorithms for Macro and System shot methods.

Improved

Test run's result is now saved for the entire duration of a TSD session.

Improved

Software passport's Language field was replaced with a more useful Note.

Improved

New system of notification about trial version and license limitations.

Improved

Advanced search queries can now be used in the Software passport's search string and in System shot results.

Improved

In the list of installed software, a new recommendation will be shown (to rescan a device if it was scanned using an old version of the agent).

Improved

If the connection is lost during deployment or uninstallation, a correct warning will be shown instead of an unexpected error.

Improved

If the Windows installer is already busy on the remote computer, deployment and uninstallation will wait for it to finish for 10 minutes.

Improved

Configuration of waiting for the installer's child processes. A separate configuration will now be saved for each method.

Improved

Advanced mode of the MS Office configuration file editor (it's now possible to specify any Product ID).

Improved

Algorithm that obtains information and icons from the installer file is now able to work with very large files.

Fixed

Error when copying the deployment log file.

Fixed

Restoration of the software storage from backup if it becomes corrupted.

Fixed

Error when loading the network storage.

Fixed

Errors that may occur when working with the Macro editor.

Fixed

Error when importing the MS Office configuration file (in the Silent method).

+ Many other fixes and improvements.
A few more details about the main points: We're continuing to add to the list of programs that can be uninstalled with Total Software Deployment. So as not to stick just to MSI packages, version
2.1.0
introduces
support for remote uninstallation of any types of packages that provide a quiet uninstall string.
These include: Inno Setup, most Windows installer XML packages, some NSIS Setup packages, and also other, less known types. Furthermore, a
new mechanism
will verify that a certain installation file is gone from the program folder after uninstallation. If the file is still present, then TSD will immediately let you know and offer to rescan the computer so you can see if the program was successfully uninstalled. Very convenient and reliable! We'll continue to delight you with further expansion of both the deployment and uninstallation functionality. After all, isn't getting rid of software in a convenient fashion as important as making new installations? Another new helpful feature is the
ability to easily update the software version using the editor.
Before, the only available option was to add the latest version as new software. Now this can be done right in the Software passport. Just point TSD to the new version of the installer, and the job is done. This lets you keep the settings in the Software passport and in the Silent method intact. However, packages recorded using Macro or System shot will not be saved in order to avoid any possible installation errors on a different version.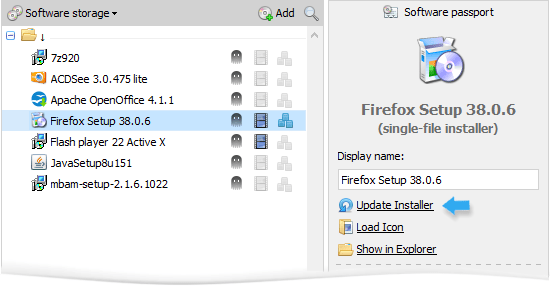 That's all for today. We wish you an easy time in dealing with the software on your network! P.S.
Total Network Inventory 3
has also been recently updated. The full list of changes can always be found in the "Help – Check for Updates" window.