Blog
---
Hello! Another interesting update has been released:
BIG FEATURE

Full SNMP scan with possibility to load vendor MIB files.

New

List of all USB devices that have ever been connected to Windows computers.

New

Inventory number and serial number in brief printable report for General information.

Improved

ESXi and FreeBSD agents updated.

Fixed

MS Office 2013 product keys detection (KMS and Click-to-Run).
Full SNMP scan
Previously Total Network Inventory was able to collect only a small subset of information from devices with SNMP support. Now it's in the past. Full SNMP scan will provide you with all available information. Moreover, you can load your equipment vendor's MIB files and all unknown fields will get meaningful names.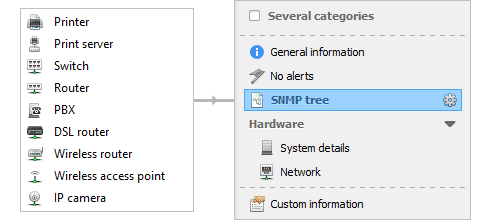 You often ask us – is it possible to track the toner level on a network printer? Yes! Now it is possible!
List of all USB devices
Recently we have added the Change log, so that you could track a loss of a memory module or an unauthorized hard drive replacement. However, what can be done to the unallowed use of USB devices between scans? Cause we don't monitor all computers constantly after all. But we have found a solution! It's the list of all USB devices that have ever been connected to computers with Microsoft Windows. This list is stored in the registry and it can't be modified without system rights, and TNI have learned how to read it. Now you will be able to see whether someone used a flash drive or other USB device.
And as always, till next time!
---
Part 2: "Filters".
And we are continuing our series of tutorials. As we promised, today we're going to describe the most popular filters and advise how to apply them best.
All filters are located right under the "Software" and "Licenses" tabs and have the following form: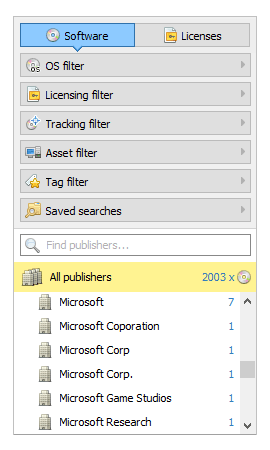 While filters are not enabled, the main list will display all of the software from all scanned workstations.
Use "Asset filter" to display a list of software on specific workstations. Select a device, several devices (make sure that the "Multiple selection" box is checked) or a group in the network tree to use it.
Another important point is filtering software by publisher or title. It allows for considerably faster tracking of workstations with outdated software versions. Simply enter software title or select a publisher from the list: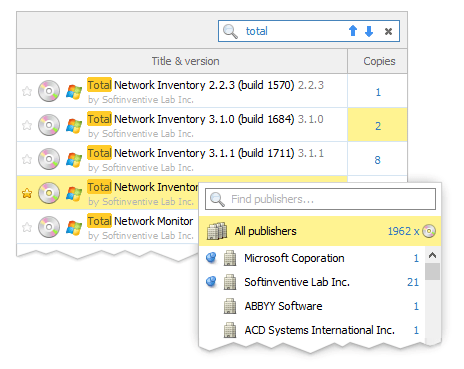 If you frequently monitor the same software, try adding it through the "Saved searches" option found in the list of filters instead of typing the software titles every time. It will save you time on each subsequent search.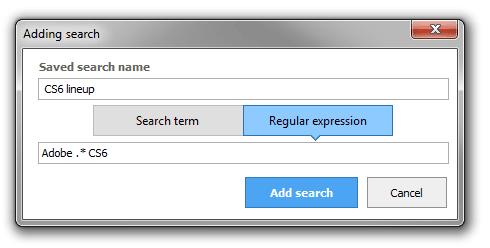 That's all for now. We hope our simple tips would prove useful in practice.
See you next time!
---
Usually, when someone visits the "Software accounting" tab for the first time, he just doesn't know from where to start. Well, software and license accounting in networks has never been too easy. We decided to release a series of blog posts for those who have just begun to use this module or avoided using it for some reason. We are going to advise you from where to start and what kind of information may prove to be most useful.
Part 1: "Getting Started".
First, you need to pay attention to the menu in the upper left corner. This is where you select the section that is displayed on the screen.

"Software" tab – to view and manage software information.
"Licenses" tab – to view and manage licenses and keys.
"Manage database" tab (gears icon) – to create and update software database.
We will start from the last point; it is only used if the database does not exist yet: you can manually update the database or import the database from an earlier version of Total Network Inventory.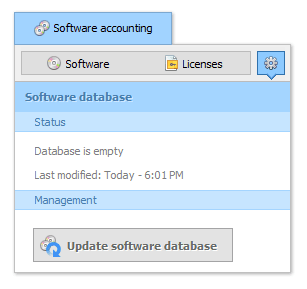 So, if the database hasn't been created, click the "Update software database" button and let's move on to the other tabs.
The "Software" tab displays almost all the information at once. Therefore, it is important to know how to filter this information and we are going to describe it in our next blog post.
---
Softinventive products:
Categories