Blog
---
When you rescan an asset that has already been scanned in the past, you probably want to get the most up-to-date information. And you also want to see what exactly has changed.
The latter used to be a rather tricky thing to do. But look!
How it works
A quick reminder: every time you scan an asset, TNI creates a new snapshot of it and puts it in your storage. In the View details tab you switch between snapshots using a date/time box next to the asset name: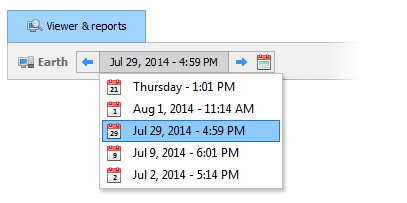 In Options / Scanner you can tweak the way TNI treats snapshots. By default it stores up to 10 of them per asset and removes those more than 90 days old (except for the oldest one). Thus you probably have about 10 time points of data per asset, the oldest one being from the very first scan.
That's a long story to tell, so it's about time TNI became a storyteller.
The story of your network
There is a new tab in the main TNI area: the Change log tab. It works out of the box, so go ahead and click it. Select any asset with at least two snapshots and see what has been going on. History!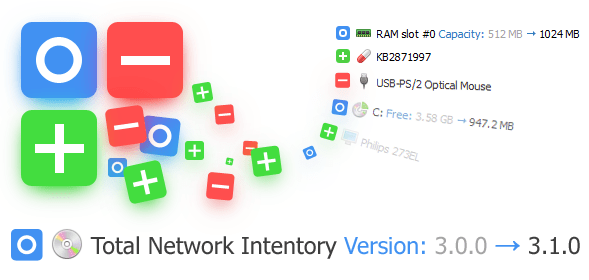 It's pretty much straightforward.
The timeline is divided into Intervals. Each interval has a starting and an ending date and time—from corresponding snapshots. It also shows you at a glance how many changes were there.
Intervals contain Events grouped by object types.
Events represent things

Added,

Removed or

Changed during that time.
You can see software being installed, uninstalled or updated…

…hotfixes being applied…

…services changing their state…

…hardware being moved around…

…and a lot more: look for changes in logon counters of user accounts to know who had used the computer, see disk space usage dynamics, devices changing error codes, items appearing in Windows autorun, etc. It's all there for you now.
And to make browsing changes as easy and fast as it can be, we've implemented our trademark instant search, of course. And filters, too. If you don't need some of all that data, just hide it using the sidebar. If you want to check for something in particular, just press Ctrl + F and type it in.
You can select multiple devices in the network tree, too. Select the root and see the History of All Your Network as a single report, and then, say, search for a software title to see each and every time it came up. Our data browsing is as always quick and powerful, so use this to your advantage.
Surely, the change log is also available in the form of printable report: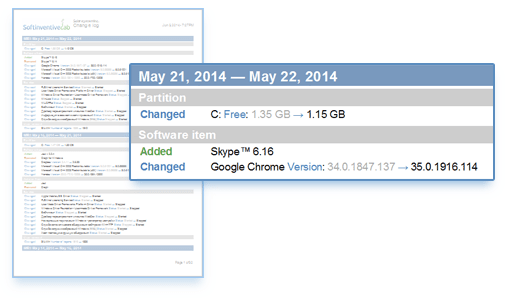 And that is the new Change log feature. It has proven so useful for us that we started using it in our own network as soon as we've built the first working prototype. We really think you are going to love it!
If you have any ideas as to how the change log could be improved, tell us! There's an ocean of new possibilities here.
Can't wait to hear from you. Till next time!
---
We remind you that as of version 3.0 (released March 3, 2014), optional one-year subscription for updates is introduced to TNI. By purchasing a license you get one year of free updates, and each subsequent year costs 20% the price of your license.
All users of TNI and TNI 2 got a free upgrade to TNI 3.0!
All users who have purchased their licenses between March 3, 2013 and March 3, 2014 are entitled to free updates till March 3, 2015.
Warning! All users who have purchased their licenses before March 3, 2013 may upgrade to TNI 3.1 for 20% of the cost of their licenses, thus extending the update period by another year. License keys purchased before March 3, 2013 will not work with TNI of version 3.1 and higher.
---
Hello! Today there's a little update with stability fixes and improvements.
New

Detection of database servers (see "Databases" section): MS SQL Server (including edition), MySQL, PostgreSQL, Oracle Database, Firebird.

New

Possibility to convert non-scanned assets to custom assets.

New

Detection of Windows 8.1 and Windows Server 2012 R2 in the storage assistants and group summary.

Improved

Convenient license upgrade and renewal (in-program license selection and direct forwarding to the order process).

Improved

Linux agent: SMART information, RAID array disks information, CPU clock speed detection.

Improved

Mac agent stability.

Fixed

Dashes instead of computer names in Software accounting.

IMPORTANT: to remove existing dashes, use "Update software database" button on the "Manage database" panel in Software accounting.

Fixed

Self-interruption of the scan process in large networks with slow-scanning computers.

Fixed

Detection of OS X systems as Windows 8 in the storage assistants and group summary.

Fixed

Software report templates are now saved in the correct folder.

Fixed

Virtualization type of a non-scanned virtual machine now changes correctly after successful scan.

Fixed

Violations in field editors.

Fixed

Duplication in license reports.
See you again soon!
---
Softinventive products:
Categories