License management software help ensure compliance with the terms of legal agreements for installed software. Self-performed software license audits help avoid penalties for being underlicensed in your organization. Total Network Inventory makes it easy to perform an internal audit of your software licenses and ensure full license compliance. License compliance management is a key component of software inventory management and plays a major role in corporate risk management.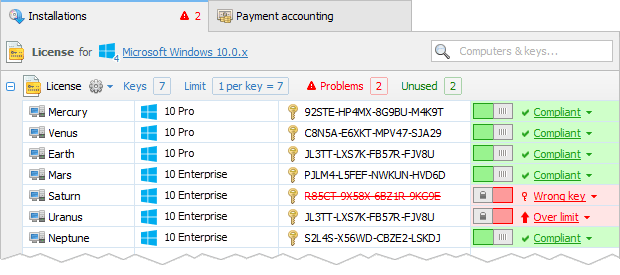 Software License Management
Our software license management tool helps ensure full license compliance by detecting Microsoft licenses in your network and helping you build and maintain an inventory of all licenses and create license entitlements.
Agentless Software Inventory Management
Total Network Inventory runs on a single computer in your network and requires no preinstalled agents. TNI scans your entire network and connects to your network computers by using local or domain administrator password.
Centralized License Management
TNI's software license manager builds and maintains a database on software packages installed in your network, allowing you to compare the number of installations with the number of licenses owned by your organization. The automatic software license compliance system keeps license keys along with the date of purchase, license expiration dates, associated costs and invoices in a centralized database.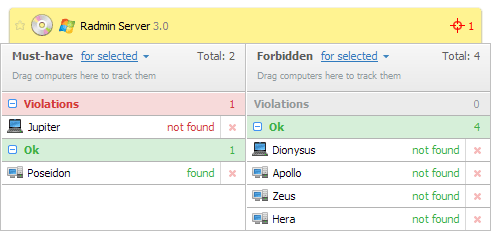 Scheduled License Compliance Audit
Run software license audits on a schedule! Software license management in Total Network Inventory includes the ability to schedule scanning tasks. Create your own custom schedule and perform daily, weekly or monthly license audits in full auto mode. By scheduling audits outside of regular working hours, you can ensure smooth performance with no unwanted network slowdowns or workflow interruptions.
Comprehensive Change Logs
Total Network Inventory saves all changes to licensed software packages into a dedicated change log. By recording events such as installations, uninstallations and updates to licensed software, Total Network Inventory helps track usage dynamics for all available packages.

License Compliance Reports
The report is an important component of license management. Total Network Inventory builds comprehensive license compliance reports that can be printed, shared or exported. The reporting tool comes with instant searching and filtering.