Blog
Greetings to all readers of our blog! Today we want to once again bring your attention to the future of Total Network Inventory.
As you may know, we strive to keep in touch with the users of our products and listen to your feedback. All ideas and suggestions are recorded and sorted by priority and popularity, and then implemented as soon as possible.
The immediate development plans having been formulated, the team is already working on the next update. Meanwhile, we invite you to vote for what features you're missing the most in TNI. We've picked out the following …
We're delighted to announce that
Total Network Inventory 3
is available today. TNI 3 is a major update we've been working on for quite some time. It's packed with great stuff.
BIG FEATURE

Software Asset Management module.

BIG FEATURE

New hardware scanning technology: collected data is now far more detailed and more accurate.

+ lots of less noticeable improvements and bugfixes
Software Asset Manager (SAM)
You may have heard a word or two from us about this one.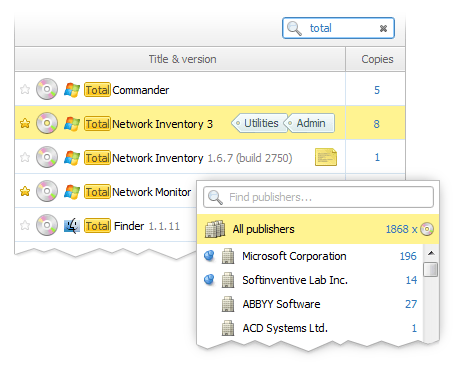 We've brought the
Software accounting
feature in TNI to the whole new level. You won't find anything like this in…