SNMP Network Discovery Software
Maintain a comprehensive inventory of your local area network by performing an SNMP scan! Total Network Inventory has everything you need to discover network devices and maintain an up-to-date inventory of hardware components used in your organization. The built-in network device scanner makes finding switches on the network easy.
Scan any network devices that support SNMP or Telnet protocol. Scan technology • Gathered data
Discover Network Devices with an SNMP Scan
Total Network Inventory allows to build a comprehensive inventory of your entire network without installing agents. The SNMP network discovery tool will scan your network for devices and collect detailed information about every router, switch, network printer and other managed appliances in a single sweep. Our network discovery tool can create a detailed summary of your LAN in a fully automated mode.
Watch Printer Toner Levels Over the Network
SNMP scans are extremely handy when it comes to retrieving ink or toner data from network printers. Manually checking each and every office printer for toner status can be a time-consuming task. The SNMP network scanning tool will automatically query connected printers for ink/toner level, allowing administrators to see when one or more printer supplies must be replenished. Total Network Inventory will generate a comprehensive report showing how much ink or toner is left in each connected printer, helping administrators order cartridges in advance and schedule maintenance.
SNMP Management Made Easy
Scanning a large heterogeneous network may not be easy. Routers, switches, printers and other appliances along with their hardware revisions and model numbers all must be properly accounted for. Our SNMP software also operates as a network printer finder: TNI makes printer discovery, queries printers for toner level and reports these values.
Use the SNMP sweeper to build your IT equipment inventory
Maintaining an up-to-date inventory of your network equipment is a must in every corporate LAN. Manually creating such databases can be extremely labor-intensive, while keeping them up to date would require frequent updates. The network device scanner in Total Network Inventory takes the hassle away by automating network scans. Utilizing the universal SNMP protocol, TNI features a high-performance scanner that allows to maintain a list of network appliances such as switches, routers, printers, VoIP boxes and set-top boxes. Our network discovery software will scan network devices that have SNMP enabled – simply click on a domain in the SNMP scanner or enter which IP ranges to scan.

Reports
The SNMP network management tool comes with comprehensive reports detailing your network structure and components. The printable reports contain full information about hardware and software discovered on your LAN.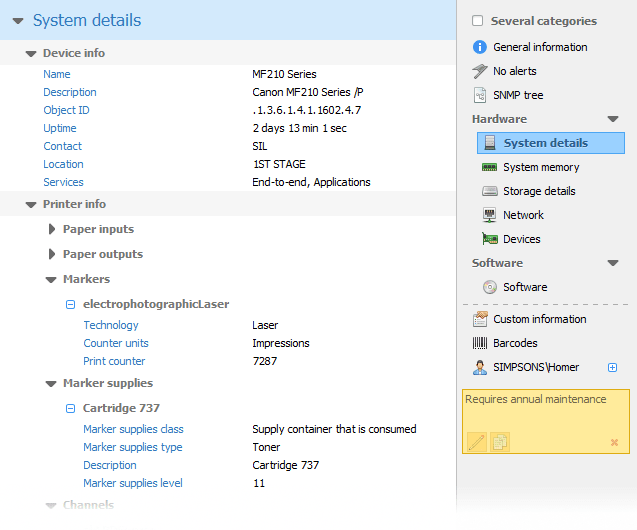 Total Network Inventory also contains a built-in MIB file package, which can be updated. It allows to easily decrypt many of the fields obtained while scanning devices. And the SNMP tree will contain more information in the form of detailed hints for each field.