Gather information from computers in the local network and perform a complete system audit with Total Network Inventory. Our PC auditing system has everything you need to build and maintain a comprehensive database about hardware and software installed on all computers and workstations in your corporate network.
PC Audit Software
Building a software and hardware inventory is a primary task of an audit tool. Total Network Inventory scans your corporate network consisting of a mix of Windows, OS X, Linux, FreeBSD, and ESX/ESXi-based computers. Total Network Inventory requires no preinstalled agents or clients, using the local or domain administrator's password to access computers on your network.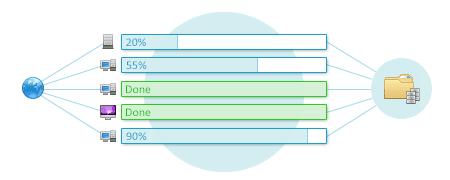 Software audit system
Total Network Inventory is a fully featured PC audit utility. It automatically gathers details on installed software and maintains a comprehensive software inventory in a centralized location. Our system audit tool lists software titles along with the number of active installations, corresponding license keys and purchase details.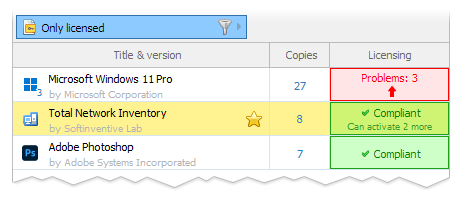 Reduce Security Risks
New security exploits emerge regularly. By using outdated software, your organization may be susceptible to security risks. A timely audit allows to determine whether the latest available updates and security patches are installed on every computer in your organization, helping to mitigate security risks on a timely basis.
Network PC Audit
Perform the complete audit of your entire network with a remote pc audit tool! Total Network Inventory scans your corporate network to discover all computers and workstations, builds a list of installed software and adds it all into a centralized database.
Comprehensive Change Logs
Total Network Inventory helps to track changes made to software packages and hardware components in your network. The system performs a PC hardware audit and records hardware being installed and removed and logs the use of portable devices that are connected or disconnected. Total Network Inventory logs newly installed and uninstalled software and records software updates by obtaining the current version number and comparing it with the previously obtained.

Computer System Audit for Your Organization
Total Network Inventory offers everything you need to build a comprehensive inventory of software being used in your organization. Our PC audit program offers comprehensive software inventory management and helps ensure license compliance for each product purchased by your organization.
System Audit Reports
TNI lets you create customizable reports during each system audit job. Build comprehensive reports with hundreds of fields, share, print or export reports with ease!