TNI 4.9.0: New constructor of custom reports for SAM
Greetings, you beautiful people! Did you miss the updates? Then download the new version of Total Network Inventory right here, right now!
The main feature of TNI 4.9.0 is a new flexible and versatile constructor of table reports for Software accounting and Licenses.
BIG FEATURE

Constructor of SAM table reports!
You are no longer limited to a set of standard templates. The new report editor allows you to use all of the familiar features that you have in Table reports. Select the fields you need, enable filtering by adding conditions, and get exactly the information you need in a form of a dense table report.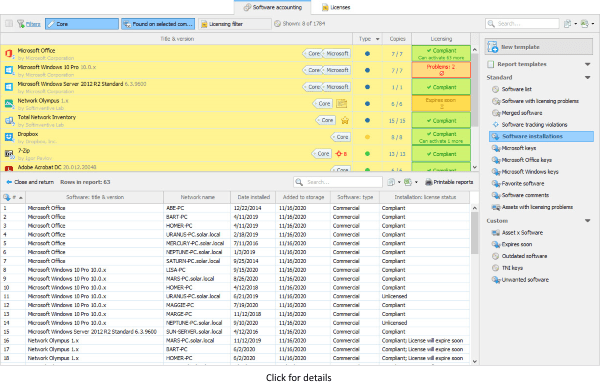 We have expanded the list of templates for your convenience. Build conventional reports with a single click or customize a template so you don't have to create one from scratch.
More useful options were added to context menus in Software accounting and Licenses: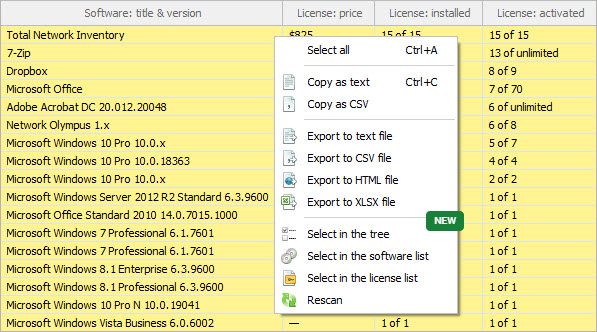 The new ability to exclude devices from software accounting can be useful if you have third-party devices in your storage, as the presence of unwanted software can hinder correct accounting. Assets can be excluded from their individual properties pages.
This update is the final in a series of SAM feature updates. Please visit the below pages to find out about more recent improvements:
TNI 4.8.0: SAM is scary no more!
TNI 4.6.0: Software accounting redesigned (stage 1)
That's all the news for today, but don't lose sight of our blog. Soon, we'll be releasing a much larger update, which is sure to be worthy of version 5! 🙌