TNI 4.1.0: Windows updates scan
Today, Total Network Inventory takes another step forward. Version 4.1 gives you the opportunity to obtain maximum information on Windows updates. Neither did we stop refining and updating the already familiar functionality. The full rundown is available below.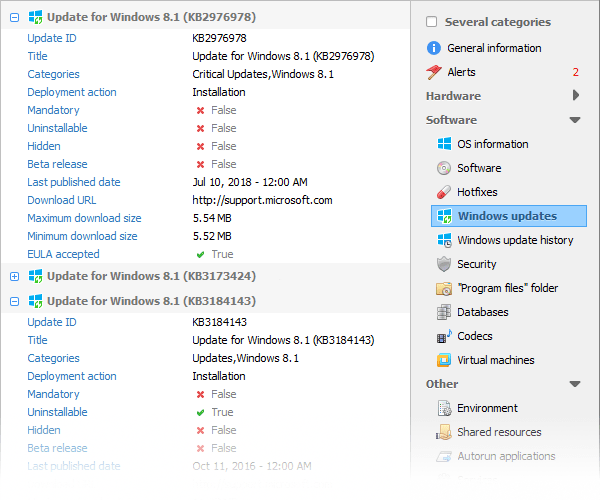 The information about updates can be collected in two different ways:
From the Windows Update log. Just rescan any Windows computer and gain access to new information in the reports. You'll find complete information about the update installation operations and their results on the scanned system.
From the Windows Update service. Unlike the previous method, this option provides information not only about already installed updates, but also those that can be installed on the scanned system (exactly as it appears on the Windows Update page). By default, this method is disabled, since its scans can take a long time. If this doesn't bother you, you can activate it in the program settings.
You can make use of both these methods to have better control of the updates status on Windows-based computers in your network.
Version 4.1 also includes over 30 other fixes and improvements, including network map autosave. Just look at the full list of changes:
New

Collecting information about Windows updates.

New

Collecting information from Windows update log.

New

Report templates for Windows updates.

New

Collecting MS Office 2019 license keys.

New

New icon in the "Operating system" assistant: for Windows Server 2019.

New

Network map autosaved by timer, plus a Manual Save button.

New

Scanning for machine SIDs

New

Reporting the last login time and username on Windows.

New

"Creation date" field for all assets.

New

Tracking of serial numbers of USB devices in the Change log.

New

Tracking of anti-spyware version in the Change log.

New

Tracking of all parameters of memory modules in Change log.

New

If the scanned device lacks both the network name and IP, a corresponding entry will be added to the scanner log.

Improved

Various improvements and tweaks in the network map.

Improved

Scanning and tracking software installed only for individual users.

Improved

Optimized mechanism for updating MIB files.

Fixed

Importing folders into the storage using drag and drop onto the network tree and using the context menu.

Fixed

Error message when scanning Active Directory using incorrect credentials.

Fixed

Obtaining multiline fields from Active Directory.

Fixed

Determining the status of antivirus and antispyware software on some server platforms.

Fixed

Exporting fields with dates and multiline fields into XLSX.

Fixed

Duplication of filters in Software accounting.

Fixed

Incorrect display of information in the "RAM total capacity and modules" field in printable reports.

Fixed

Display of TNI's OS X agent version.

Fixed

Refresh mechanism for printable reports.

Fixed

Searching in the network tree.

+ Many other fixes and improvements.
Additionally, we want to bring your attention to our poll that's still being held in the next post. Please vote if you haven't already done so.
That's all the news for the day. Later!