TNI 2.0.4 (1205): The Holiday update
Hi everyone! We've been working on new features, fixing bugs and polishing user experience for quite some time now. And we figured we'd release a
fancy something
at the end of the year. 

New

Manufacturer names and MAC addresses are displayed during the network scan.

Improved

Many interface improvements.

Improved

The online status monitor now updates dynamic IPs.

Improved

Scan tasks are matched to assets considering MAC address (if available).

Improved

Destination folder cannot be changed for existing assets during rescan.

Improved

"Skip existing assets" option does not skip non-scanned assets anymore.

Fixed

Some issues with detection of the license limitation exceeding.

Fixed

Issues with erroneous merging of some assets.

Fixed

Some errors in the Linux agent.

And a few more tiny, pretty changes.
Manufacturer names in scanner tasks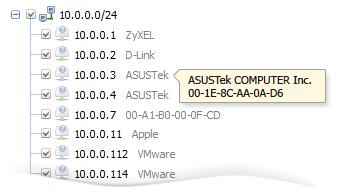 This feature's coolness is difficult to overestimate. You get this as soon as you type the range into Quick Add and expand it. All these devices were never scanned, but you can already tell which of them is a network device, a Mac or a virtual machine. Manufacturer name sure indicates a lot, doesn't it?
Also check out the Scanner options page. From there you can change the way manufacturers and MAC-addresses are displayed.
Worth a note: the feature only works if ARP ping is enabled in Options (which is true by default) and only for targets from the current subnet.



Best wishes to you from the Softinventive Lab team. May you have an unforgettable holiday season! We'll meet again in the year 2012.