Update: TNI 2.0.4 (1141) Table conditions!
Welcome (and hurry to download) the red-hot TNI update!
The update brings great new features, big and small. Besides, it fixes a severe bug that was bugging some users for a long time… yeah, that's what bugs do — they bug. But not this one, it's done for.
BIG FEATURE

Table report conditions.

BIG FEATURE

Custom assets.

New

In table report constructor: ability to add hidden columns to the template.

New

New standard table templates: operating systems summary, detected Microsoft licenses, problematic Windows devices.

New

Static IP address field in table reports.

New

New paper formats: A3, A2, Legal, Ledger, Tabloid.

New

Various new assets types.

New

In the network tree: separate indication for visible and total assets,
"(M of N)".

New

In the network tree: new node display options (OS, CPU, system models and manufacturers).

New

Link to the most recent blog post about TNI in the main menu.

New

Links to blog posts on each update in version history.

Fixed

Sometimes program hanged under Windows 7/2008 after being closed.

Fixed

Software accounting (export of copies and moving of software into groups).

Fixed

"Intel Pentium III" generic CPU name instead of incorrect Intel Xeon model.

Fixed

Adding of operating systems to software list.
Get exactly what you need with Table conditions!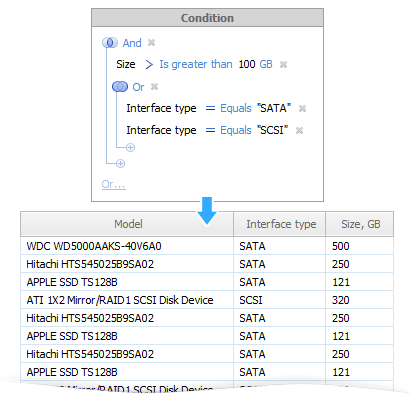 Table report conditions
 are released and at your service. This is some real power! Now you can put a constraint on the entity of a table report. Ever wanted to build a report like these?
All software from Adobe installed in September;
All running services with 'Apple' in their name found on computers whose IP matches '10.0.1.*';
All computers that have more than 2 GB of VRAM and a widescreen monitor;
etc.
It's easy now, try it. There are two new standard templates to demonstrate the feature, but don't be shy and build your own! Go to
Table reports
tab, click
New template
, add some fields and then click

Add condition
below! Soon we'll publish a dedicated blog post on table conditions to give your imagination a boost. And you won't miss it thanks to this next gimmick.
Keep your eye on blog updates

Just glance at the upper-right corner of the window to see if there's something new in our blog. Rather important sub-feature of this notifier is that it can be disabled. If you don't like it, go to
Options / General
and uncheck
 Show last blog post
. After all, there's
RSS
for that, right?
Add custom assets manually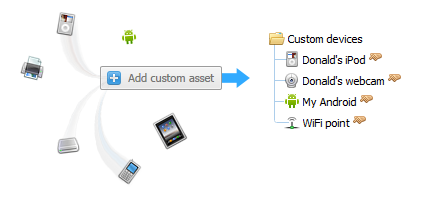 From now on TNI 2 supports
Custom assets
. Click the

Add custom device
button above the network tree and set up the new asset real quick. Define it's type, fill in the values of common fields, create some custom fields (or use a preset) and don't forget to give it a name. The asset will appear marked with

 in the network tree.



The amount of work ahead of us is huge. New software accounting, custom categories in Viewer and reports tab, etc. Things will get better month after month!