TSD 1.3.0: Support for Powershell scripts and improvements to network storage assistants
Hello, friends! Today we want to share the latest news on
Total Software Deployment
. Last week's update contains some long-awaited changes. It's not a huge list, but of course quality is more important than quantity:
New

Support for Powershell scripts.

New

Assistant "OS architecture" for the network tree.

New

Deployment-related setting "Logged in user not required" in Software passport.

New

Timestamps for desktop and deployment log messages.

New

Ability to add a batch file as consisting of more than one file.

Improved

Network storage assistants now displayed in the order they have been added in.

Improved

Assistants "OS" and "Online status" now accept multiple conditions.

Improved

Recording of macros using the service is performed in an environment more similar to one used during playback on remote machines. This eliminates certain differences in installer steps and fixes possible errors when running the installer.

Fixed

Disappearance of the list of recently opened storages.

Fixed

State of nodes in storage trees (expanded/collapsed) not being saved in certain cases.

Fixed

Incorrect behavior of the addon installer process during macro recording if the previous installer includes controls that are incompatible with the Macro method.

Fixed

Batch file started incorrectly when performing a Test run or recording a macro or sysshot if the storage is located on a shared resource.

Fixed

Unexpected error during deployment if the preceding program was deployed using the macro method.

Many other fixes and improvements.
Now, let's focus on the main features. The new ability to deploy
PowerShell scripts
received a lot of attention from the developer team:
All released versions of PowerShell are supported.
You can deploy parameterized scripts using the Silent method.
When the script is being deployed, the PowerShell prompt may display error messages or other information. TSD collects all the script output, and you can view it via a link provided both in the deployment log and in Software deployment history. This way, you will always be informed about the events that occur during deployment!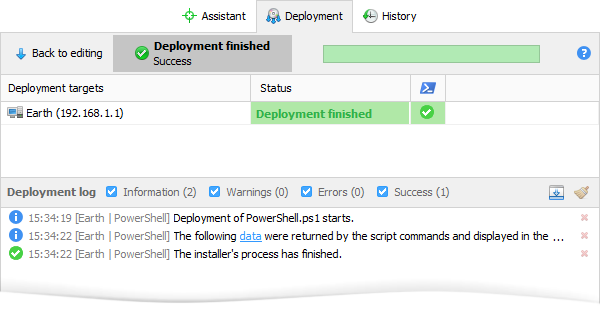 One of the most anticipated features has been the ability to deploy software to computers where the
user is not logged in
. At last, you can use TSD to execute the full range of deployment tasks on remote servers in your network: to install necessary software, to run a batch file or a PowerShell script. Now it's more convenient than ever before. But be aware that certain programs may require the user session to be active during installation. Otherwise, errors may occur in their further operation. In addition, the
network storage assistants
have been slightly updated, and a new one, OS Architecture, was added. Now you'll be just one click away from filtering your computers by system bitness. Assistants Online status and Operating system received a necessary little upgrade. Now several conditions can be selected at the same time: tick whichever Windows versions you're interested in, add the online status filter, and choose architecture as a finishing touch. The result will be exactly what you're looking for!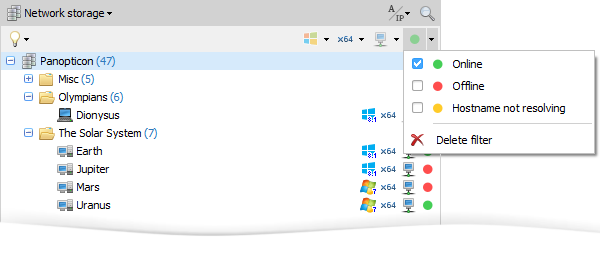 That's it for today. Are you looking forward to more news from our development team? Rumor has it, an update for
Total Network Monitor 2
is imminent. See you soon.