TSD 1.2.0: Deployment assistant and improved interface
Hello, friends! We've prepared a sizable update for
Total Software Deployment
. In this new version, you will find a number of changes aimed primarily at improving usability. As always, let us first look at the full list of changes before delving into details:
BIG FEATURE

New Assistant for searching for software and computers to use in deployment.

BIG FEATURE

Improved user interface.

New

Progress indicator when loading a storage.

New

Search in program settings.

Improved

Network storage will load faster in certain scenarios.

Improved

Simplified desktop log: now completely separate and independent from the deployment log.

Improved

Significantly improved load times for deployment lists.

Fixed

Error detecting Windows 8.1, 10 and Server 2012 R2 in Software editor's information panel for Macro and Sysshot.

Fixed

Visual artifacts on Windows Server.

Fixed

Errors in deployment log messages when adding computers to the Deployment targets list.

Fixed

Inactive window scrolling in Windows 10.
Assistant
The more flexible, thought-out and convenient Assistant comes in place of the Software update helpers. This tool combines the functionality of both helpers and, what's most important, is easier to use. The Assistant allows you to quickly look up which software is already installed and on which computers, as well as to determine if any versions are outdated. Furthermore, search logic has been revised and its stability improved. Let's review both modes.

1. Find computers for deployment.
Let's suppose that you need to find out whether particular software is installed on network computers (or whether it's up-to-date). It's very simple to do: just drag any software from the software storage to the software deployment list, and the results will appear below.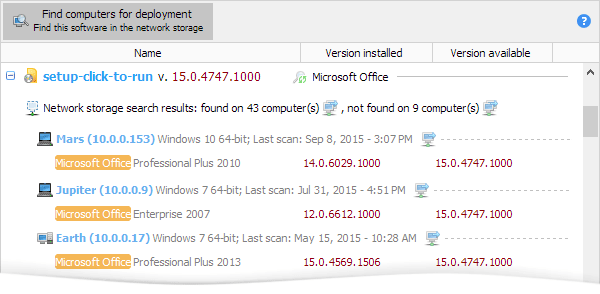 Using this mode, you can search for software on all computers in the network storage. You'll see a list of computers where the software of interest is installed, and you'll be able to verify if it's the same version as the one in your storage. Software search strings can be quickly changed right from the list. A few handy buttons will help you add computers where the software is missing or out of date to the list of deployment targets.
2. Find software for deployment.
This is when you need to find software only on those computers that are of interest to you. In contrast to the other, this mode allows you to search for all software in the software storage. Add one or a number of computers to the list of deployment targets, and bingo: TSD will present you with a full list of programs installed on each computer and highlight the ones that can be installed or updated straight from the software storage.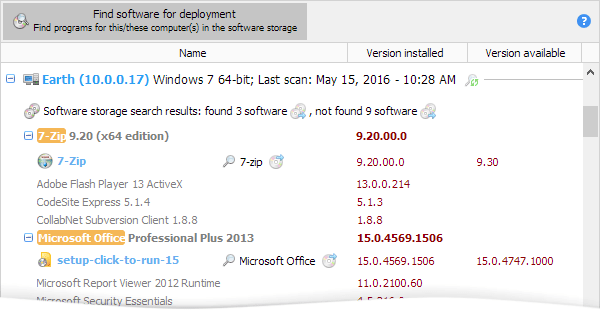 Please note that in order for the Assistant to work properly, the passport for each program has to be filled out in the software editor.
Interface
As you may have already noticed, the software interface has been updated. This facelift is aimed at making the program more accessible and user-friendly. The process of loading a storage will now be accompanied by animation. We've also changed the position and appearance of several buttons and panels.
Deployment log
A few changes affected the method of logging. Now, more events are written into the Deployment log, and in more detail, thereby allowing you a better insight into the process. Finally, we've significantly improved program stability and storage load speeds. The new version of Total Software Deployment can as always be accessed by
Checking for Updates
from TSD's Help menu, or simply click
here
. We're looking forward to your feedback!



P.S. An update for Total Network Inventory is coming soon as well. Don't miss it!