Total Network Inventory 4 is ready for action!

Hello! Today is the day we unveil the long-awaited Total Network Inventory 4, featuring the new module that allows to create network maps!
The update is truly massive. While part of the TNI team was working to implement the most convenient and versatile network map editor, their colleagues continued to make improvements to the existing features. To be honest, the result exceeds even our own expectations.
BIG FEATURE

Network Map!

New

Asynchronous mode of scanning SNMP devices and other useful new features.

Improved

Many improvements.

Fixed

Huge number of fixes!
This time, the full list of changes is so huge that it doesn't fit on the screen. As always, you can find it in the TNI main menu (Help – Check for updates).
Universal tool for mapping your network
Starting today, a new section will become available to all users of the TNI Professional license: Network Map. This is a fully fledged editor that allows you to visualize the structure of network devices the way it's convenient for you.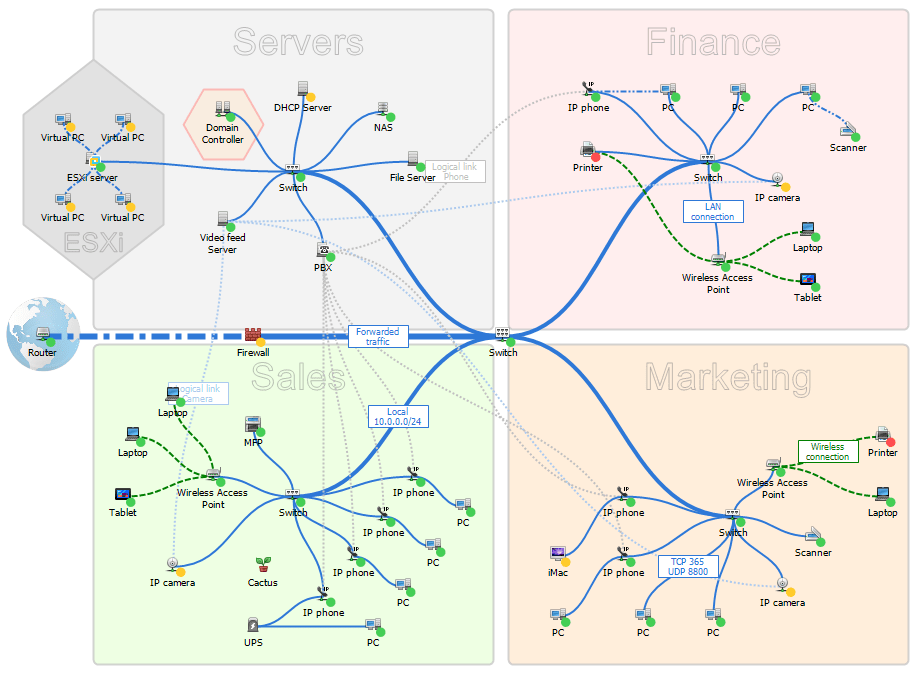 Create as many maps as you need: a separate map for every office floor, the layout of the server room equipment, or a map showing all the company branches in various corners of the world. Every one of an unlimited number of maps can be configured individually.
Add a multitude of objects: in addition to assets and groups, you can make use of all sorts of geometric primitives and images. Simply drag & drop assets from the network tree and add all the shapes you want. And by changing the color, style, and opacity of these shapes, you can get an infinite variety.
Use the map to your best advantage: its size is not limited, so it will easily accommodate all of your devices and groups. By the way, you can place the same object on the map again and again (as shown on the screenshot).
Feel free to experiment: create multilayered combinations of objects, shapes and images. You can rearrange the order of overlapping objects, choose their transparency, enable automatic alignment of objects, add labels to them, and much more.
Don't waste any time: while in the map mode, you can do a quick search for network devices or initiate their rescan or anything else you'd like.
Use links to connect devices and groups: there are 6 types to choose from. You can choose a color and add a label for any link. Take a look:
Patched up and enhanced
We believe that TNI 4 is the most stable and reliable version of Total Network Inventory so far. Many vital program components were overhauled and improved, such as the way assets are imported, matched and merged, and the way that the data is stored, while a safeguard was implemented to make sure that a number of critical operations are correctly synchronized. Many more hours were dedicated to making improvements to the scanner, settings, AD sync, searching and filtering, software accounting module, and to the scanning of SNMP-enabled devices. This should significantly decrease the likelihood of encountering an error during your work with the program.

To conclude, we must allay any concerns that switching to the 4th version could require extra expenses. Every user will be able to receive this major version as a regular update, provided their maintenance period is still active.
Go ahead and test the new TNI features now. If your current license doesn't allow to update to this version or access the new tab, you should contact us, and we'll provide you with a temporary key for the TNI 4 Professional license.
Keep on keeping on, Merry Christmas and Happy new year!
Til next time.