TNI 4.3.0: New features in Software Asset Management
Dear readers, this is a prosperous time for Softinventive Lab! It has barely been a week since our last Network Olympus update was released, and we're already ready to unveil another major Total Network Inventory update. New features and improvements to the Software accounting module are the central theme of this update. Changes were also introduced in many other elements of the program.
Automatic merging of different software versions
Every long-term user of SAM must have at least once needed to merge different versions of the same software into one group entity. This not only saves screen space, but also allows you to account licenses for different program versions. The challenge used to be adding each new version to the group manually every time one appeared in the software list. Well, fret no more. From now on, TNI 4.3.0 can handle this routine task!

You can gain the most benefit with programs that are frequently updated, such as Microsoft Office. Update and save oodles of precious time!
Labeling software by distribution model
Many of you have told us that you want to categorize software as freeware, shareware and commercial, so we've added a special tag for that. You'll be able to quickly distinguish programs by distribution type by glancing at their indicators under Type: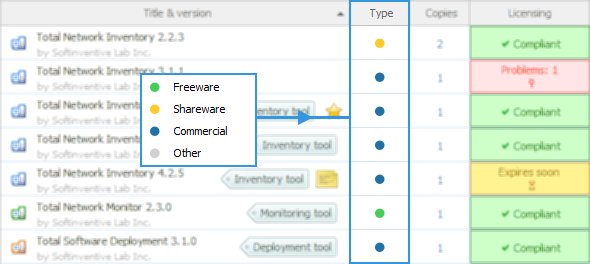 New filters, how to replace software icons and other improvements
Up next, we must highlight more additions to the Software and License accounting module, such as the new filters that facilitate working with the software list. For example, you can now filter by the abovementioned software type, by visibility (irrelevant software can now be simply hidden from the list), and by license status. The latter filter will also help you find software licenses that are about to expire.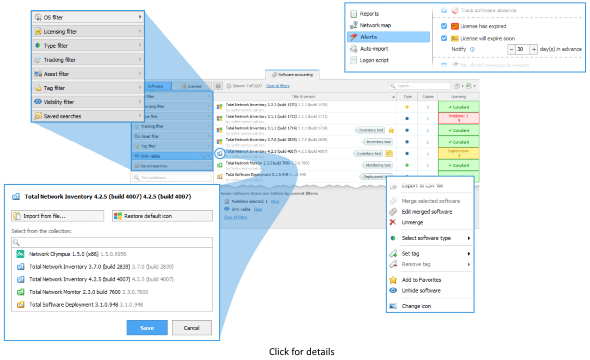 The refined software list will be easier to work with, most operations now able to be run directly from the context menu.
You can make your own experience in Software accounting more enjoyable by uploading correct software icons. To start changing icons, click any of the default Windows
or Mac

icons in the list. A new window will open where you can create the single collection of icons to serve all your storages. Any icon can then be applied to any software.
Other improvements merit a mention: the updated design of the Users list, support for scanning of macOS Catalina systems, and a new assistant called Asset lists that allows to filter the network tree using saved lists.
BIG FEATURE

SAM: ability to automatically merge different versions of same software.

BIG FEATURE

SAM: new field for Software type (commercial/shareware/freeware).

BIG FEATURE

SAM: option to upload a software icon.

New

SAM: special tag allowing to hide programs from the list.

New

SAM: notification about the imminent expiration of the license.

New

SAM: search by full or partial license key.

New

Mac agent: support for scanning macOS Catalina.

New

Network map: welcome screen.

New

New assistant: asset lists.

New

Viewer & reports: new field "Scan Method".

Improved

User experience when working with the list of users.

Improved

SAM: software filtering options.

Improved

SAM: context menu and other interface elements.

Improved

SAM: user experience with software tags.

Improved

Collection of information on the software installation date.

Improved

Collection of information about software installed in the per-user context.

Improved

Report building and its cancellation.

Fixed

SAM: software comments being cloned or wiped.

Fixed

SAM: some issues with the interface and internal logic.

Fixed

SNMP tree display.

Fixed

Error scanning some SNMP devices.

Fixed

Scan task duplication that may occur when loading a saved task.

Fixed

Minor issues with scanning and AD sync.
These are all the news we have for today. Have a successful scan and low ping. Later!