TNI 3 is out! Meet advanced Software Asset Management
We're delighted to announce that
Total Network Inventory 3
is available today. TNI 3 is a major update we've been working on for quite some time. It's packed with great stuff.
BIG FEATURE

Software Asset Management module.

BIG FEATURE

New hardware scanning technology: collected data is now far more detailed and more accurate.

+ lots of less noticeable improvements and bugfixes
Software Asset Manager (SAM)
You may have heard a word or two from us about this one.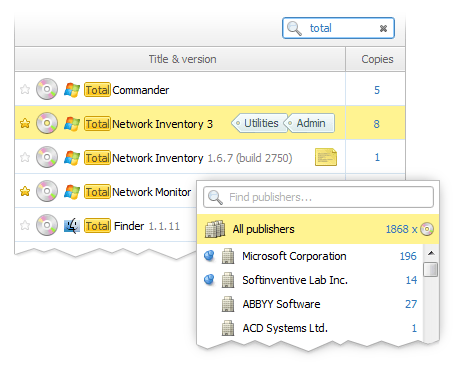 We've brought the
Software accounting
feature in TNI to the whole new level. You won't find anything like this in other products, and we're extremely proud of it. Discovering software in your network is now easier than ever. Browsing computers that have an application installed is simple and straightforward. Finding programs, managing them, assigning tags and stars, filtering by various criteria, building reports, etc. — everything is intuitive, fast and accurate.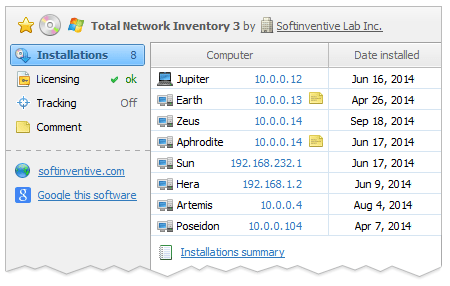 And if your license includes the
advanced SAM
features, you get one of the most flexible
License managers
out there for storing crucial data on each of the licenses you own, their license keys and models.

And sure enough, automatic calculation of your
licensing status
per software, per license or per individual installation.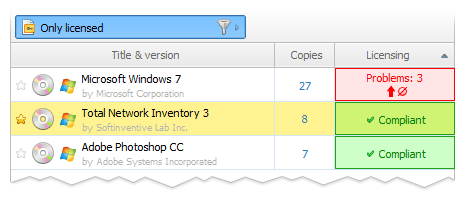 You can read more about it on
our updated site
or find getting started instructions on our
user manual page
.
Better scanning technology
A new driver is introduced as the TNI means of collecting inventory data. With it, information in the hardware categories will get incredibly detailed and accurate:
New

More information on motherboard (chipset, USB version, RAID possibilities);

New

Completely revised information on CPU (socket, codename, TDP, instruction sets, correct detection of multicore CPUs and multithreaded cores);

New

Complete information on memory modules (manufacturer, type, speed, part number);

New

New section in Peripheral devices – USB devices (manufacturer, serial number, USB version supported and current speed, driver manufacturer, version and date).

Improved

More information on video-adapters (chipset, video memory, video card name, frequencies);

Improved

More accurate detection of multiple monitors;

Improved

More informaiton on audio devices (adapter name, HD codec, driver version and date);

Improved

More information on storage devices (HDD: interface type, device type – HDD or SSD, serial number, firmware revision, rotation rate, form-factor, buffer size, NCQ/TRIM/SMART support, SMART data; CD/DVD-drives: serial number, type, revision, firmware date, read and write support).
Our new licensing and pricing policy
Please take a minute to familiarize yourself with our new policy.
TNI 3 Standard license gets cheaper. It includes all scanning and reporting features from TNI 2. It also includes part of the features of the new Software Asset Management unit. Namely: software browser and manager, installations viewer, software merging, software tracking and corresponding reports. It does not include license managing features.
To get advanced Software Asset Management features (license manager, license status calculation and detailed licensing reports), you need second tier license. We call it TNI 3 Professional. It costs additional 50% of the original price (depending on the number of nodes).
When you purchase your license you get 1 year of free updates. In a year you can renew your license to keep receiving updates. It will cost 20% of the price of your original license. Extending your update period is optional and is not subscription-based. Just a hint: As you can find by scrolling through our blog, a year of updates adds a lot of value to the product.
Support remains free and perpetual (not connected to the limited update period).
And now a few points regarding our current customers.
We are grateful to all TNI 3 beta testers who provided feedback. This feedback was invaluable to us. Therefore you get TNI 3 Professional license for free. Drop us a letter to claim your license.
All our customers who own TNI 2 get TNI 3 Standard license for free (your TNI 2 license will continue working with TNI 3).
Customers who purchased TNI 2 before March 3, 2013 will get free updates until 3.0.1. All further updates (3.1 and higher) will require a renewal of the license.
Customers who purchased TNI 2 between March 3, 2013 and March 3, 2014 will get free updates until March 3, 2015.
All our customers who own TNI 2 get 50% discount for TNI 3 Professional license (this offer is valid until the release of TNI 3.1).
That about covers it. If you have any questions feel free to ask on our
support page
.



Download TNI 3
and enjoy all the great new features it has to offer. During the trial period you will be able to evaluate all features of the full TNI 3 Professional package. Don't forget to use the
Feedback
button. Your feedback made this update possible, so keep it coming and let's see what's next!