TNI 3.7.0: Improved SNMP scanner
Hello, friends! A new version of Total Network Inventory has seen the light of day today. The main improvements are aimed at expanding the functionality for scanning network devices via the SNMP protocol. We've also made a number of fixes in the main functionality.
As is usual, we offer you the full list of changes and improvements:
New

Significantly increased number of fields collected via the SNMP protocol: from printers, UPSes, host resources.

New

MIB file package containing more than 300 RFC specifications (for decrypting the SNMP tree in the full scan mode), and a mechanism for updating it.

New

Collecting information about the Microsoft Edge browser version.

Improved

Redesigned SNMP scanning engine.

Improved

Even more information displayed about SNMP fields after the full scan.

Fixed

SNMP scanner operation when scanning via the SNMPv3 protocol with authorization.

Fixed

Text in error messages when invalid SNMPv1 or SNMPv2c credentials were used.

Fixed

Error in the form for editing the SNMPv3 login.

Fixed

Mechanism for auto-picking common communities for scanning via SNMP.

Fixed

Scanner hanging in some cases.

Fixed

Scheduler: missed scans are now performed as expected after exiting sleep mode.

Fixed

Changed the algorithm for checking for updates and sending results to the resident agent.

Fixed

Resident agent: disabled scan tasks are now skipped as expected.

Fixed

Auto-import: problem saving the import data path.

Fixed

Error running the resident agent on an OS with Turkish localization.

Fixed

"Ends with" condition in Table reports now works correctly.

Fixed

Hints for storage assistants.
SNMP scanning has reached a whole new level. First off, new fields are available for reports on devices scanned via SNMP. For example, you can easily build a table report that shows the toner level in network printers or UPS battery status. And you won't need to perform a full SNMP scan.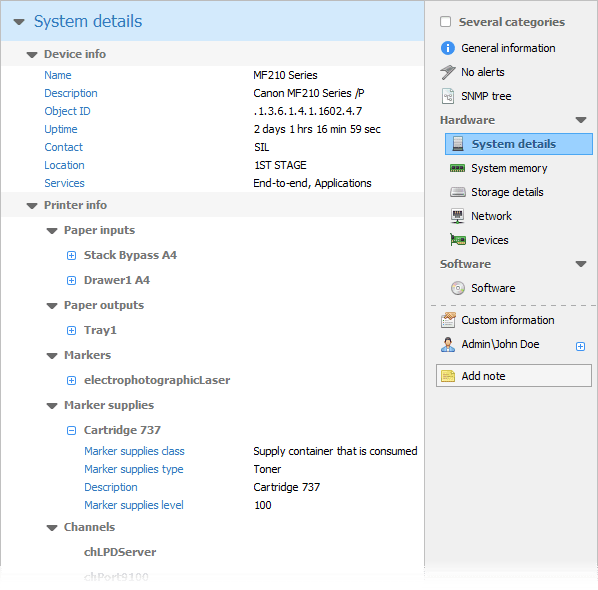 Changes have also affected the full scan via SNMP. The new version of the program already contains an updated MIB file package. This allows the system to decrypt many asset fields in the SNMP tree and display additional information as hints for fields on the Viewer & reports tab.
Please update and enjoy the new features.
But wait, there's more. Coming very soon is another large-scale update that many of our users are waiting for. It's a treat!

P.S. And don't forget that we're having a beta test of our new product Network Olympus. All active participants will receive a license as a gift.