TNI 3.4.5: Active Directory Synchronization Functionality
Hello to all! The latest update for
Total Network Inventory 3
is
out
. As we promised, it's the reworked Active Directory synchronization module. The synchronization process becomes more convenient and informative, and more tweaks can be made. As usual, before diving into details, we offer you the full list of changes and improvements:
New

Ability to synchronize computers and users with a different domain.

New

Auto-picking passwords for logging into the domain during AD sync.

New

A window with preliminary results allowing to view and control the synchronization (when launching manually).

New

Synchronization results are logged to a text file.

New

Ability to schedule synchronization with AD.

Improved

AD synchronization algorithm.

Improved

Synchronization settings were optimized.

Improved

Correct handling of renamed devices during synchronization.

Improved

Detection of the current and root domains at startup.

Improved

The process of automatic synchronization at startup and on a schedule is invisible to the user.

+ Some other fixes and improvements.
Auto-sync on a schedule
As you probably know, synchronization with AD could only be initiated manually or when the program itself is started. Yes, we agree with you that this is sometimes not enough. And that's why a new method was added: automatic
synchronization on a schedule.
Simply set up the Scheduler, and the program will synchronize with AD exactly when it suits you! We'd like to point out that
synchronization at startup
will be disabled after you update. But worry not, you can either enable this setting again, or switch to only using the Scheduler.
Preliminary synchronization results
New capabilities will be available when you start the synchronization manually. You'll be able to
preview the changes
as shown here: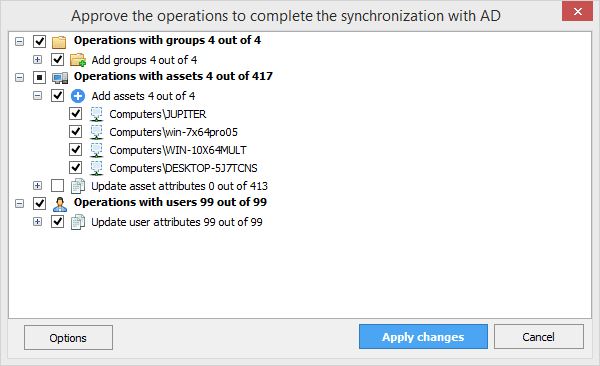 In this window, you can browse the proposed changes and choose what elements should be updated. Don't want to move devices? Uncheck it. Want to update information for specific computers? Select only those. Synchronize users only? Easy. All done quickly and conveniently.
Other improvements
Another new helpful feature is
trying different logins for AD.
If TNI fails to start the synchronization using the current user's credentials, the program will automatically try to find the correct login from among those listed on the
Edit – All logins
tab. Also, all synchronization operations will from now on be
logged
to adsync.log which is located in the following folder: C:\ProgramData\Total Network Inventory 3 And another thing we ought to highlight: now it's possible to synchronize with a domain that the current computer does not belong to. Update your TNI and enjoy the new features. See you next time!