TNI 3.3.1: Resident agent
We're elated to announce a long overdue update for
Total Network Inventory!
Just imagine, the
standalone agent
is now equipped with the ability to transfer scan results to you by a method of your choosing. We've called it
Resident agent
. Say goodbye to all the trouble that comes with scanning computers that don't belong to your network or rarely, if ever, appear online! Once you configure the resident agent, you can receive scan results by
email,
FTP,
or from a
network share,
and after adding a scan schedule, all that's left is to settle in your comfortable chair with some tea and cookies and watch the magic happen… But let's get back to our update – here's the list of changes:
BIG FEATURE

Resident agent.

New

SAM: Ability to edit saved searches and to quickly save instant search queries.

New

Proxy server settings in General options.

Improved

Scanning via SNMP (improved support for devices with SNMP v3 and v1/v3, particularly for Synology NAS and Cisco routers).

Improved

Network tree toolbar updated (Search, Add assistant).

Improved

SAM: software tracking (dragging and dropping computers to make them exceptions, list sorting).

Improved

SAM: software list sorting when creating a license.

Improved

SAM: hint explaining the reason why Software accounting is blocked.

Improved

SAM: search in multi-line publisher and software names.

Improved

Proxy server password is now encrypted.

Improved

Search field algorithms.

Fixed

Collecting information about configured VMware Workstations.

Fixed

Adding MIB-files.

Fixed

Problems with cyrillic storage folder names.

Fixed

Export to XLSX.

+ Many other fixes and improvements.
Previously, the only way to schedule a scan by an agent was to use separate tools; and scan results could only be saved in the folder specified in the command line. These limitations are in the past. Resident agent is installed as a service that can perform a scheduled scan and immediately send you the result.
The setup process
will only take a few minutes: a section of Options dedicated to it is readily accessible from the Scanner tab.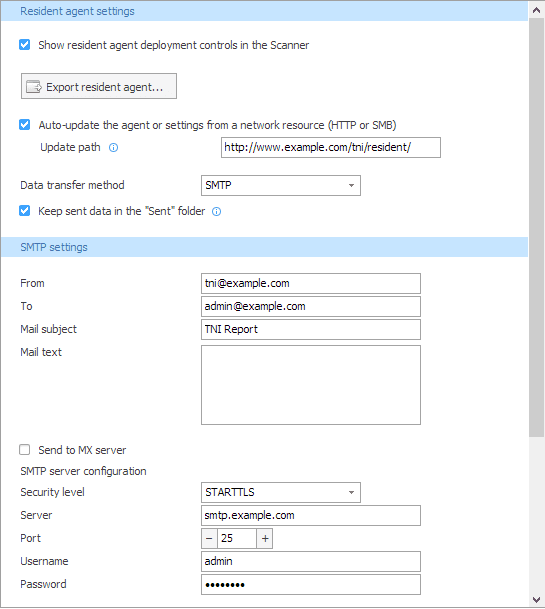 If a remote computer is accessible
over the network, then the agent can be installed or removed there by pressing one of the two buttons that appear in the Scanner when the computer is added to the list of scan tasks. These buttons are hidden by default and can be enabled from Options (via the "Show resident agent deployment controls in the Scanner" setting).
In any other case,
you can configure the agent, and then export it to move to a remote computer. Manual installation and removal of the service is done using the following respective commands: "tniwinagent.exe /install" and "tniwinagent.exe /uninstall". But we did not forget about the
ability to automatically update the agent file
and its settings. The agent can update itself from a web server or from a network share, as well as using the scanner in Total Network Inventory. That's all the news for today. Stay tuned for more updates. Leave your comments and suggestions in the comments, or send them by
email
.