TNI 3.2.1: SNMPv3 support
The new TNI update is
here
, bringing you the long-awaited
SNMPv3 support
and a few minor fixes and updates:
BIG FEATURE

Support for scanning of network devices via SNMP v2c and v3.

New

Ability to switch to Change log via keyboard: Ctrl+5.

Improved

Reporting of license usage on the status bar.

Improved

Compatibility with Total Software Deployment when working with the same network storage.

Fixed

SAM: Returned ability to unmerge one software item from a collection.

Fixed

Standard actions "Reboot" and "Poweroff".

Fixed

Scan of SNMPv1 devices.
At last our users who have network devices that don't support SNMPv1 are relieved. They can use the latest and secure version 3 of SNMP protocol to collect information from their devices. Hardware with SNMPv2c support was not forgotten as well. We would be glad to receive your feedback about this new feature.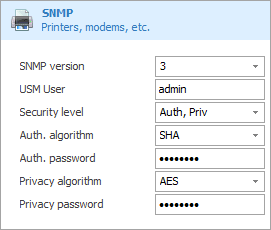 And as always, till next time!