TNI 3.2.0: Improved scan engine and direct ESX/ESXi scanning
Dear friends! Over the past 3 months we have spent a lot of time making significant improvements to our network scanner. We improved its stability, reliability and scanning speed. In addition, TNI now supports scanning
VMware
assets via
HTTPS
protocol. Thus, at the moment TNI can scan virtually anything, with a single click: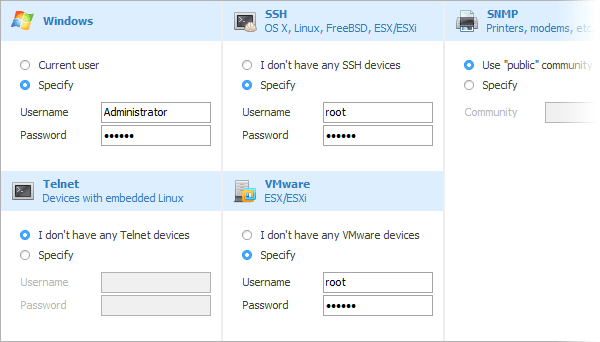 Now we can confidently say how a typical Softinventive product looks like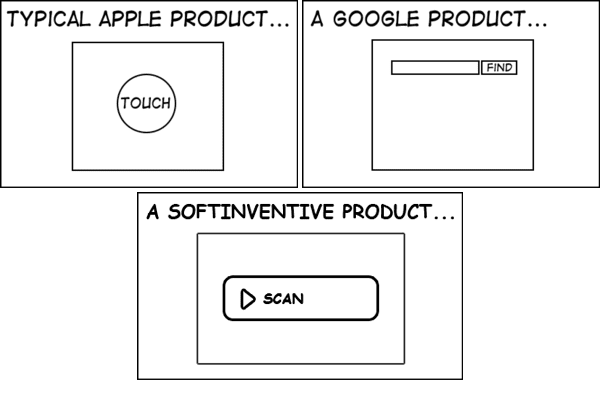 And as always, we have many other improvements in the new version:
New

VMware login type: scanning of VMware ESX/ESXi via HTTPS.

New

"Attachment" custom field for assets.

New

Possibility to clear the value of the custom field of "Date" type.

New

"Used, GB" and "Free, %" fields in logical disks table reports for all supported systems.

Improved

Scanner engine (better network device discovery; modified settings; other improvements).

Improved

Scanner does not try to detect MAC addresses for hosts in other subnets any more.

Improved

Independent selections in the network tree (Up/Down and Alt+Up/Alt+Down).

Improved

Updated GUI for Windows 10.

Fixed

Detection of product keys for Office 2013 Home and Business (ClickToRun).

Fixed

Some issues with Linux and Mac scanners.

Fixed

Some issues with two copies of the program using the same storage at the same time.

Fixed

Export of table reports with date field to XLSX.
A little more info on several items: In this release we've added a
new login type: VMware.
Now VMware ESX/ESXi servers can be scanned via the HTTPS protocol, because the SSH protocol is disabled by default. However, less data is gathered via HTTPS, so we still recommend enabling SSH for these servers and scanning them via this protocol. The
scanner engine
has been improved. We removed the unnecessary online-status check settings and updated the scanner settings (port scan and network discovery). Please note, when "Safe profile" of the classic engine port scanned is enabled (by default), then no more than 4 ports are scanned for a single device. This allows avoiding a possible trigger of intrusion detection systems, like Symantec Endpoint Protection. At the same time, if you have logins specified for SSH, Telnet, and VMware protocols, then there can be "not enough space" for the last two of them and you won't be able to scan assets via these protocols (the scanner will notify you). In this case, "Light profile" should be selected, which allows scanning 10 most frequently used ports, including 23 (Telnet) and 443 (HTTPS). Moreover, we paid some time to update the automatic key detection for various versions of
Office 2013—
Home and Student, and Home and Business in particular. They install under the Click-To-Run scheme and store their data in the registry in a special way. This required a further scanner improvement. By the way, we've already started working on adding support for SNMPv3 device scanning. See you next time!