Blog
As always, greetings to everyone who reads our blog. The first winter update from Softinventive Lab has arrived. This time, the
TNI
team brings us another oft-requested feature that will make work easier for many of our users. TNI 3 can now not only create reports and export them in a convenient format, but do it automatically according to the schedule you've set. A lot of time can be saved if you have both the automatic network scanner and the report builder up and running. Here's the complete list of changes:
BIG FEATURE

Ability to schedule table report generation and export.

Improved

AD sync: Support for escaped symbols in LDAP requests.

Improved

AD sync: Sync can be started or stopped from the storage root folder dropdown menu.

Improved

AD sync: Progress bars for the sync process.

Improved

AD sync: Overwriting of users data during sync is optional and disabled by default.

+ Some other fixes and improvements.
And now onto the main course.
Table reports
can now be scheduled and built automatically. Simply copy any standard template or create a new custom template, and you'll see that a new button has appeared when you hover the mouse over the template: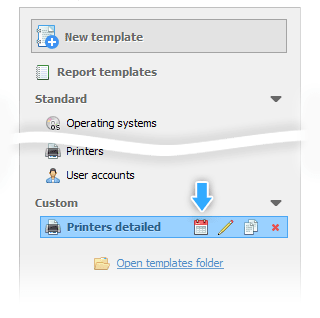 Click the button, and the already familiar
Scheduler
window will appear. Its functionality was somewhat expanded: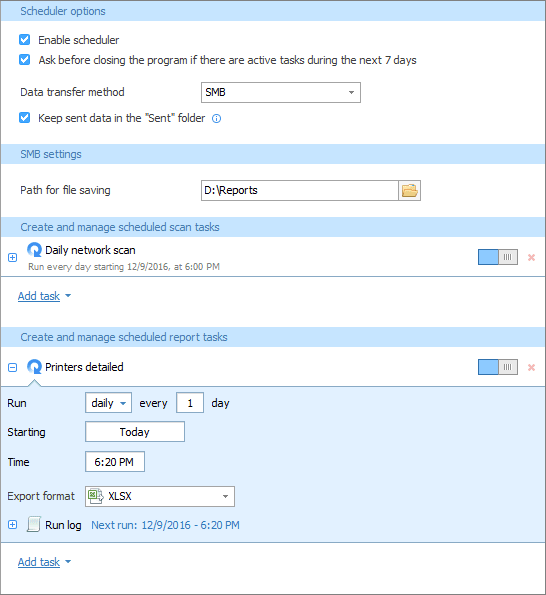 You can schedule reports from here along with the scan tasks. Once the report is built, it can be automatically exported in a common format (TXT, XLSX, CSV or HTML) and then either saved to a folder or sent over email or FTP. The level of comfort is off the charts: the network gets scanned, a report containing the fresh data is sent to your email, and you don't even have to be around to supervise the process! We have to point out that, by default, the scheduled report will be built for the whole network tree. To have one built on specific devices or groups, just activate the
"Multiple selection" mode
and tick the necessary boxes in the network tree before leaving TNI running. That's it for this blog post. We're sure that you'll make good use of the new feature. Leave a comment or drop us an email, we will be happy to answer your questions.
Hello, friends! Today we want to share the latest news on
Total Software Deployment
. Last week's update contains some long-awaited changes. It's not a huge list, but of course quality is more important than quantity:
New

Support for Powershell scripts.

New

Assistant "OS architecture" for the network tree.

New

Deployment-related setting "Logged in user not required" in Software passport.

New

Timestamps for desktop and deployment log messages.

New

Ability to add a batch file as consisting of more than one file.

Improved

Network storage assistants now displayed in the order they have been added in.

Improved

Assistants "OS" and "Online status" now accept multiple conditions.

Improved

Recording of macros using the service is performed in an environment more similar to one used during playback on remote machines. This eliminates certain differences in installer steps and fixes possible errors when running the installer.

Fixed

Disappearance of the list of recently opened storages.

Fixed

State of nodes in storage trees (expanded/collapsed) not being saved in certain cases.

Fixed

Incorrect behavior of the addon installer process during macro recording if the previous installer includes controls that are incompatible with the Macro method.

Fixed

Batch file started incorrectly when performing a Test run or recording a macro or sysshot if the storage is located on a shared resource.

Fixed

Unexpected error during deployment if the preceding program was deployed using the macro method.

Many other fixes and improvements.
Now, let's focus on the main features. The new ability to deploy
PowerShell scripts
received a lot of attention from the developer team:
All released versions of PowerShell are supported.
You can deploy parameterized scripts using the Silent method.
When the script is being deployed, the PowerShell prompt may display error messages or other information. TSD collects all the script output, and you can view it via a link provided both in the deployment log and in Software deployment history. This way, you will always be informed about the events that occur during deployment!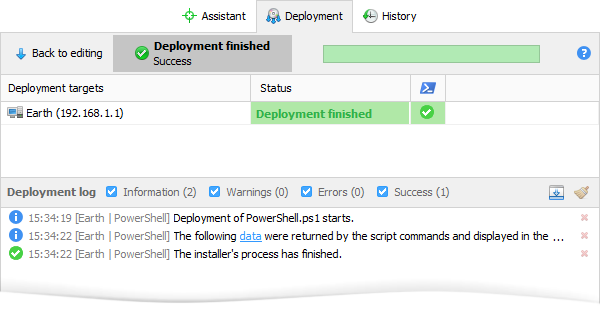 One of the most anticipated features has been the ability to deploy software to computers where the
user is not logged in
. At last, you can use TSD to execute the full range of deployment tasks on remote servers in your network: to install necessary software, to run a batch file or a PowerShell script. Now it's more convenient than ever before. But be aware that certain programs may require the user session to be active during installation. Otherwise, errors may occur in their further operation. In addition, the
network storage assistants
have been slightly updated, and a new one, OS Architecture, was added. Now you'll be just one click away from filtering your computers by system bitness. Assistants Online status and Operating system received a necessary little upgrade. Now several conditions can be selected at the same time: tick whichever Windows versions you're interested in, add the online status filter, and choose architecture as a finishing touch. The result will be exactly what you're looking for!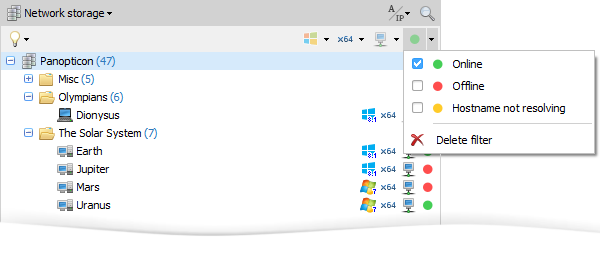 That's it for today. Are you looking forward to more news from our development team? Rumor has it, an update for
Total Network Monitor 2
is imminent. See you soon.
Glad to welcome you again. It seems that summer has come to an end, but, despite the holiday season, our developer team has continued to delight you with compelling program updates! The key point of today's update is the ability to customize partial synchronization of Active Directory with your TNI storage. This means that we have managed to achieve the objective set before us by
Total Network Inventory
users – one that turned out to be really interesting – and in the process many other elements were improved:
BIG FEATURE

Customizable synchronization with AD

New

Synchronization of specific groups in the storage with specific OUs in Active Directory.

New

Ability to specify a domain controller for AD synchronization.

New

AD group membership is displayed for each AD account in Edit – Users.

New

Parent OU is retrieved for each asset and can be displayed in reports (requires AD sync).

New

Icon of each group becomes animated when it's being synced.

New

"Don't move", a new asset property that allows to keep assets in groups that don't correspond to their OUs.

New

Options to skip empty OUs and disabled PCs during AD synchronization.

Improved

Logical disks on Windows PCs are now grouped by type in the Storage details category (tab Viewer & reports).

Improved

Dialogs asking how to treat assets and users that were not found in AD during synchronization.

Improved

Processing of long computer names from AD.

Fixed

Retrieval of MS Office license keys in cases when both trial and permanent licenses are present.

+ Some other fixes and improvements.
From here on, in more details about the key feature. The process of
synchronization
with Active Directory becomes truly configurable. Here you can see the new settings that will now be available for each group in your storage: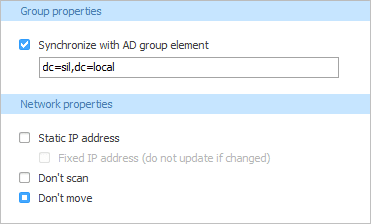 This gives you complete freedom of action! Synchronize the entire storage or only specific groups with specific OUs in the domain, or even synchronize only one group with the whole domain. In addition, it's possible to skip synchronization of empty OUs and disabled PCs, and if you're afraid that any of your PCs will be moved during AD sync, you can keep them from doing so. Now everything is possible in AD sync! And also, you don't have to wonder whether the synchronization process has ended anymore. The icon of each synchronizing group will become animated for the duration


. Isn't this all you ever wanted?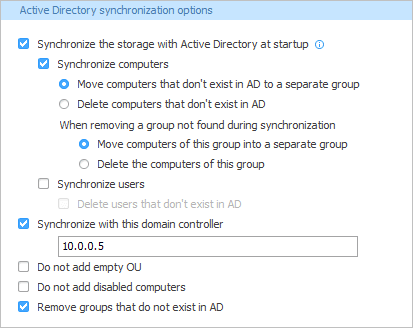 Keep your requests coming, and we'll be happy to bring them into existence. Do not miss our next post!