Network Olympus 1.8.0: New dashboard Sensors/Actions and other improvements
Hello, friends. We wish to draw your attention to the recent Network Olympus update. In version 1.8.0, we've set out to optimize the interface and made some changes to the product licenses.
The first thing you'll notice on launch is the new Sensors/Actions dash that combines the previously separate widgets and even expands on their functionality. The new "Success rate" column gives you access to the stats on your monitoring elements, and it's easier to see and quickly access each relevant linked notification: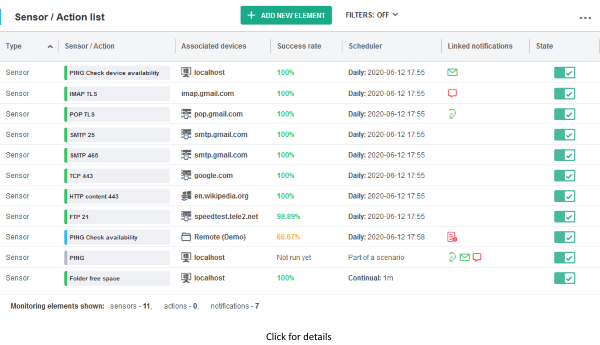 The licensing changes only affect entry-level licenses, including the free license. The store now offers licenses for 25 and 50 devices. This means the application becomes even more accessible for those who need to monitor a small number of devices. The free license is now limited to 10 devices, but as a positive we've also removed the restriction on the use of group sensors.
You can find a more detailed description and the list of changes in the full version of this post on the Network Olympus website. Install the update, enjoy the new features and let us know your feedback!