Total Network Inventory makes maintaining large software inventories easier and more transparent. Software license audit or software compliance audit is an important sub-set of software asset management, and an important component of corporate risk management. Software audit control with self-audits is a key component to managing software assets.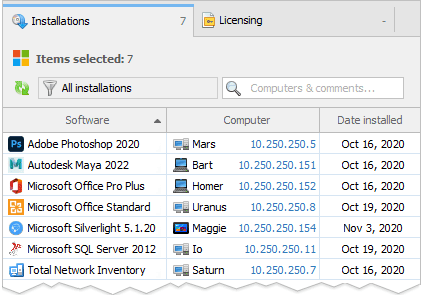 Software License Compliance
Total Network Inventory scans your entire network to perform a comprehensive software licensing audit. Microsoft Windows and Office licenses can be collected automatically. Total Network Inventory requires no preinstalled agents: just specify the local or domain administrator password to scan your network.
Centralized License Management
Total Network Inventory keeps information on all the software licenses owned by your organization on a central server. The software audit tool stores all available license keys along with the date of purchase, expiration date and price, financial documentation such as invoices and receipts, as well as end-user license agreements.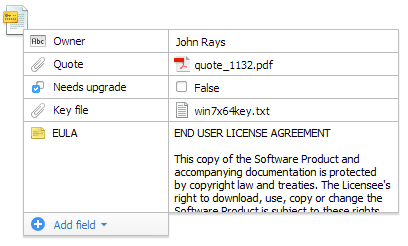 Comprehensive Network Scanning
With Total Network Inventory, you can perform software license compliance audit of your entire network. Scan single nodes, network address ranges, or Active Directory structure on a single schedule.
Strict Software License Control
Over time, enforcing software license compliance in a large, heterogeneous network becomes time-consuming. Total Network Inventory can save your time by helping perform license audits of all software installed on your network.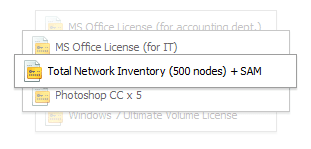 Software Audit Tools for Your Organization
Total Network Inventory provides everything you need to perform a complete software license audit. Comprehensive inventory management, full logging and reporting, scheduled license audit and many more are available.
Scheduled Audits
With Total Network Inventory, you can schedule software audits. You can choose the day and time to run a single auditing task or schedule audits to run on a regular basis. By scheduling audits off peak hours, you can ensure that an audit job won't interfere with the regular workload.

Comprehensive Change Logs
Document all changes in hardware and software. Total Network Inventory records newly installed, updated and removed packages and hardware components, logs the amount of available disk space, and collects other data for the change log.

Audit Reports
Create customizable reports on each audit job. Build table reports with hundreds of fields. Total Network Inventory produces printable reports that can be exported. The available search and filtering functions show results as you type.