IT Asset Management Software
If a company needs to manage software and hardware assets, it should establish a clear and optimized operation that will bring real value to the business. An ITAM software product such as Total Network Inventory is the ultimate solution when it comes to simplifying and controlling IT costs and eliminating unnecessary spending, avoiding the slightest risk of non-compliance costs, reducing license expenditure, and more.
The main mission of IT asset management systems is to ensure an automated process that will let you focus on primary business objectives instead of less important mundane operations. With this, you receive an effective management system to establish the efficient process that is relevant to your particular IT assets inventory.
How Can our IT Asset Management Tool Help
Turn mundane manual operations into automated processes. Simply download the best ITAM solution to streamline hardware and IT inventory and create a relevant and cost-effective IT infrastructure. We provide a clear and flexible management tool that delivers crucial features right out of the box. It will come in handy whenever you need to control all your IT spend and will be a proven return on investment (ROI). Our solution makes it easy to ensure service delivery improvements that will certainly bring many benefits to your business.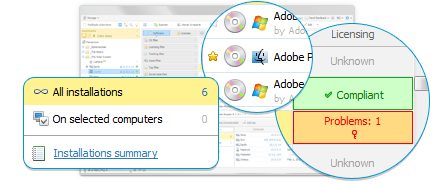 Control All Available Hardware
IT asset management solutions contain a bunch of extensive features that let you comfortably handle the process of effective hardware and asset management. Total Network Inventory lets you easily control all hardware, from routers and switches to servers and workstations. The system makes it easy to track any device connected to the network, including printers, scanners and phones. The tool will automatically identify the device and generate all available data, automatically dividing all the available devices into categories. Managing inventory has never been easier.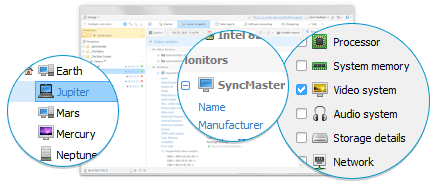 Track Software and Licenses
The network can be overloaded with unnecessary software installations that are of no use; however, as an owner, you still need to pay for them. Unexpected costs will hardly put an ease on the corporate budget. Our management system makes it easy to detect and eliminate all the unwanted devices, hardware and software that you no longer require. At the same time, you will get access to all software licenses used in your network.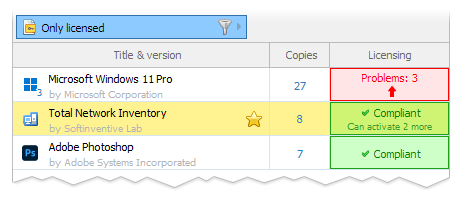 Automated Reports on Any Aspect
The system can automatically generate detailed reports on every characteristic of a computer within your network. It takes a couple of moments to generate custom reports, as well as get the full list of all available IT assets, to present to the auditor.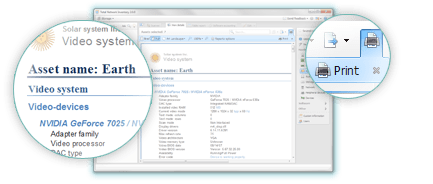 Keep Everything in Your Hands
Benefit from a set of comprehensive features and capabilities that let you keep control over all endpoints and secure them:
Launch software examinations and audits effortlessly;
Minimize the risk of data damage by decreasing vulnerability;
Track the current state of IT inventory to proceed with smart decision making;
Avoid overspending and over-deployment. Prevent your network from overloads and use available software wisely;
Quickly integrate third-party solutions and extra features;
Establish consistent and high-quality IT management operations.
IT asset management tools are the best bet for companies of any size, whatever their niche, if they have to deal with IT assets. Intelligent management systems make it easy to optimize the costs, as well as ensure a high level of network security and productivity. A fully automated process will handle all issues and generate detailed reports on each action while you are focused on your primary business goals. Keep control of software licenses, hardware and assets within your IT infrastructure. Simply download this useful tool and start driving your business to success.