TNI 3.4.1: Scheduled Creation and Export of Reports
As always, greetings to everyone who reads our blog. The first winter update from Softinventive Lab has arrived. This time, the
TNI
team brings us another oft-requested feature that will make work easier for many of our users. TNI 3 can now not only create reports and export them in a convenient format, but do it automatically according to the schedule you've set. A lot of time can be saved if you have both the automatic network scanner and the report builder up and running. Here's the complete list of changes:
BIG FEATURE

Ability to schedule table report generation and export.

Improved

AD sync: Support for escaped symbols in LDAP requests.

Improved

AD sync: Sync can be started or stopped from the storage root folder dropdown menu.

Improved

AD sync: Progress bars for the sync process.

Improved

AD sync: Overwriting of users data during sync is optional and disabled by default.

+ Some other fixes and improvements.
And now onto the main course.
Table reports
can now be scheduled and built automatically. Simply copy any standard template or create a new custom template, and you'll see that a new button has appeared when you hover the mouse over the template: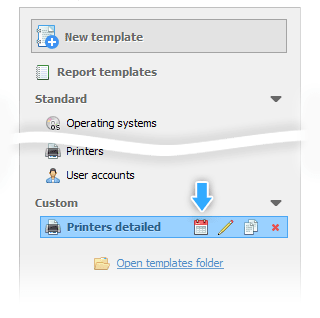 Click the button, and the already familiar
Scheduler
window will appear. Its functionality was somewhat expanded: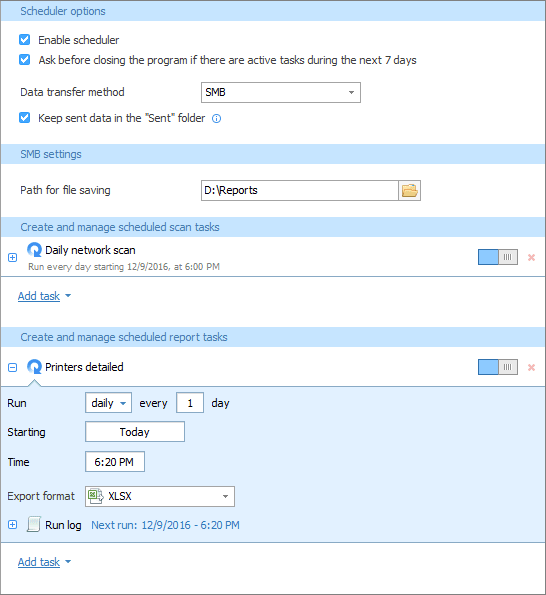 You can schedule reports from here along with the scan tasks. Once the report is built, it can be automatically exported in a common format (TXT, XLSX, CSV or HTML) and then either saved to a folder or sent over email or FTP. The level of comfort is off the charts: the network gets scanned, a report containing the fresh data is sent to your email, and you don't even have to be around to supervise the process! We have to point out that, by default, the scheduled report will be built for the whole network tree. To have one built on specific devices or groups, just activate the
"Multiple selection" mode
and tick the necessary boxes in the network tree before leaving TNI running. That's it for this blog post. We're sure that you'll make good use of the new feature. Leave a comment or drop us an email, we will be happy to answer your questions.