Blog
Dear readers, are you ready for Friday? July is coming to a close, and that means it's almost time to celebrate
System Administrator Day
! The holiday is on
July the 28th
. We'd like to sincerely congratulate all admins on this wonderful day! You are the true heroes, quietly preserving the peace and order in corporate networks. May the force be with you! We highly value what you do and hope that our products make your work a bit more pleasant. Therefore, once again, we are lowering the prices for all our licenses until
August 11
:
Total Network Inventory 3
Total Software Deployment 2
Total Network Monitor 2
The discount is applied automatically when you order from our site. And what is a holiday without gifts?! Starting today (
June 26
) and during the next
7 days
, we'll be handing out
Total Software Deployment 2 licenses for 25 devices
to anyone interested. To receive your license, send us an
email
!
-20%
Offer ended on August 11
TSD 25 node license
FREE until August 1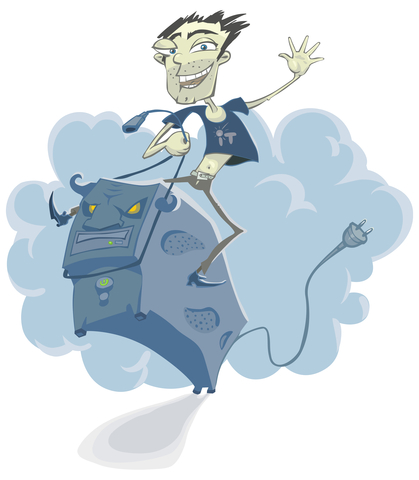 Hello to all! The latest update for
Total Network Inventory 3
is
out
. As we promised, it's the reworked Active Directory synchronization module. The synchronization process becomes more convenient and informative, and more tweaks can be made. As usual, before diving into details, we offer you the full list of changes and improvements:
New

Ability to synchronize computers and users with a different domain.

New

Auto-picking passwords for logging into the domain during AD sync.

New

A window with preliminary results allowing to view and control the synchronization (when launching manually).

New

Synchronization results are logged to a text file.

New

Ability to schedule synchronization with AD.

Improved

AD synchronization algorithm.

Improved

Synchronization settings were optimized.

Improved

Correct handling of renamed devices during synchronization.

Improved

Detection of the current and root domains at startup.

Improved

The process of automatic synchronization at startup and on a schedule is invisible to the user.

+ Some other fixes and improvements.
Auto-sync on a schedule
As you probably know, synchronization with AD could only be initiated manually or when the program itself is started. Yes, we agree with you that this is sometimes not enough. And that's why a new method was added: automatic
synchronization on a schedule.
Simply set up the Scheduler, and the program will synchronize with AD exactly when it suits you! We'd like to point out that
synchronization at startup
will be disabled after you update. But worry not, you can either enable this setting again, or switch to only using the Scheduler.
Preliminary synchronization results
New capabilities will be available when you start the synchronization manually. You'll be able to
preview the changes
as shown here: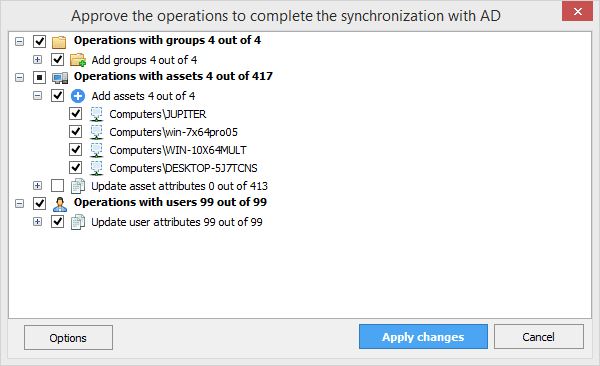 In this window, you can browse the proposed changes and choose what elements should be updated. Don't want to move devices? Uncheck it. Want to update information for specific computers? Select only those. Synchronize users only? Easy. All done quickly and conveniently.
Other improvements
Another new helpful feature is
trying different logins for AD.
If TNI fails to start the synchronization using the current user's credentials, the program will automatically try to find the correct login from among those listed on the
Edit – All logins
tab. Also, all synchronization operations will from now on be
logged
to adsync.log which is located in the following folder: C:\ProgramData\Total Network Inventory 3 And another thing we ought to highlight: now it's possible to synchronize with a domain that the current computer does not belong to. Update your TNI and enjoy the new features. See you next time!
Hello, dear readers of our blog! It's been a long time since the last major
Total Software Deployment
update. But today we certainly have a big one! Since the release of the very first version, we knew that TSD would eventually gain this feature, and numerous feedbacks have confirmed that it's essential. As you may have guessed, today's update is dedicated to
the new remote MSI uninstallation module
. There's no need for any more scripts or parameters. A few mouse clicks – and the unnecessary program will be correctly uninstalled on just one, a few or all network computers. The new functionality is very convenient and gives complete freedom of action!
BIG FEATURE

Uninstallation of MSI packages.

BIG FEATURE

The list of software installed on computers in the network storage.

BIG FEATURE

New technology for deploying MSI packages using the Silent method.

New

Search in the List of installed software. Allows to find any software on computers in the network storage.

New

Group of deployment and uninstallation settings.

New

When the deployment is complete, you can now filter the results according to whether the deployment was successful, and then save the filtered deployment targets to a new list.

New

Option to automatically save computers with deployment errors to a new list of deployment targets.

New

Option to automatically rescan computers if the deployment was successful.

Improved

Parameters for recording the Silent method for the MSI installer type were changed. The default command line was changed, and an information panel with recommendations was added.

Improved

Both storages can now be searched using logical AND and OR operations ('+' and ',' respectively).

Improved

Multiple selection in the network tree. It can now be used when working with computer properties, logins and the list of installed software.

Fixed

Errors when adding computers with certain properties to the Deployment targets list.

Fixed

Errors when halting deployment.

Fixed

Deployment failure when the "Use network discovery" setting is off.

+ Many other fixes and improvements.
The full changelog can be found on the update screen in the program itself.
First off, we want to highlight the
new Uninstall tab.
Now nothing prevents you from removing programs from network computers as easily as installing them! Select one or more computers in the tree, and you'll see a complete list of software installed on them. Using search, you can quickly find the necessary (or rather, unnecessary) programs in the list. What remains is to put them on the uninstall task list and press one button: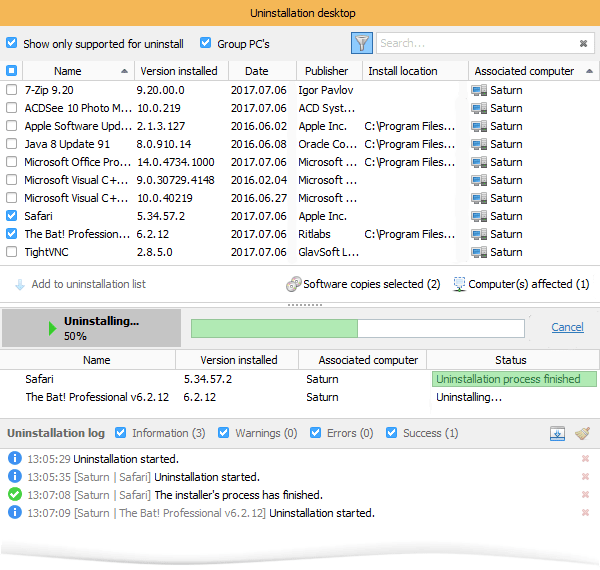 It's worth noting that you don't need its MSI package in order to uninstall a program. It's enough to just to scan the computer and select the soon-to-be-uninstalled software from the list. Simple and easy. In the future updates, we plan to expand the list of supported installer types. Another important feature of this update is the
new MSI package deployment engine.
This improvement will greatly improve the likelihood of successful deployment when using the
Silent method
. You will also have an opportunity to analyze any errors that may occur in detail. And most notably, now you don't need to worry about the installation context. TSD works correctly with packages configured to be installed either per-user or per-machine. If you go to program options in TSD 2, you will find
new sections dealing with Deployment and Uninstallation.
Now TSD can automatically rescan the computers where deployment was completed successfully. And as for those computers where errors have occurred during the deployment, TSD can automatically save them to a separate list of deployment targets. This will allow you to easily attempt deployment again after having identified and removed the cause of these errors. Also, on the deployment panel, we added buttons allowing to manually filter and save such lists:

In addition, several aspects of the
network tree
were improved to allow for better usability: the search engine, the filters, and the way the computers are displayed and selected. And these are only some of the improvements that you will encounter! We love sharing good news with you, but it'll be much better if you check out all the new Total Software Deployment features in action! You can download the update either by following
this
link or in the program itself, by clicking
Help – Check for updates.
Until next time! P.S.: don't forget to keep checking for updates to
Total Network Inventory.
As we've already
mentioned
, it will bring improvements to the AD synchronization feature.