Blog
---
Glad to welcome you again. It seems that summer has come to an end, but, despite the holiday season, our developer team has continued to delight you with compelling program updates! The key point of today's update is the ability to customize partial synchronization of Active Directory with your TNI storage. This means that we have managed to achieve the objective set before us by Total Network Inventory users – one that turned out to be really interesting – and in the process many other elements were improved:
BIG FEATURE

Customizable synchronization with AD

New

Synchronization of specific groups in the storage with specific OUs in Active Directory.

New

Ability to specify a domain controller for AD synchronization.

New

AD group membership is displayed for each AD account in Edit – Users.

New

Parent OU is retrieved for each asset and can be displayed in reports (requires AD sync).

New

Icon of each group becomes animated when it's being synced.

New

"Don't move", a new asset property that allows to keep assets in groups that don't correspond to their OUs.

New

Options to skip empty OUs and disabled PCs during AD synchronization.

Improved

Logical disks on Windows PCs are now grouped by type in the Storage details category (tab Viewer & reports).

Improved

Dialogs asking how to treat assets and users that were not found in AD during synchronization.

Improved

Processing of long computer names from AD.

Fixed

Retrieval of MS Office license keys in cases when both trial and permanent licenses are present.

+ Some other fixes and improvements.
From here on, in more details about the key feature.

The process of synchronization with Active Directory becomes truly configurable. Here you can see the new settings that will now be available for each group in your storage: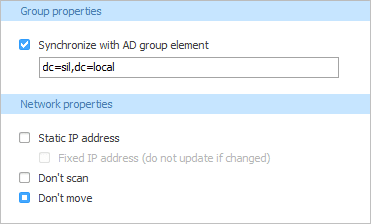 This gives you complete freedom of action! Synchronize the entire storage or only specific groups with specific OUs in the domain, or even synchronize only one group with the whole domain. In addition, it's possible to skip synchronization of empty OUs and disabled PCs, and if you're afraid that any of your PCs will be moved during AD sync, you can keep them from doing so. Now everything is possible in AD sync! And also, you don't have to wonder whether the synchronization process has ended anymore. The icon of each synchronizing group will become animated for the duration


. Isn't this all you ever wanted?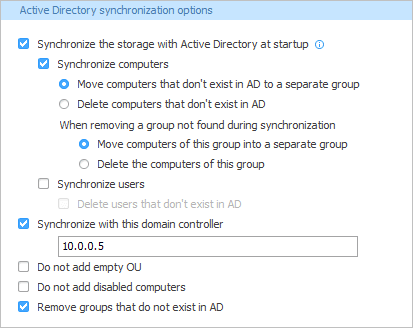 Keep your requests coming, and we'll be happy to bring them into existence. Do not miss our next post!
---
Hello again from the Total Network Inventory team! This time, we'd like to put another brick into building a firm relationship of trust with TNI users. So we've decided to conduct an experiment and let out clients themselves make a choice as to which features should be added first.
It's simple: vote for whichever appeals to you the most, and we'll do our best to implement your favorites as soon as possible.
We've shortlisted only the most requested features and created a poll. Please note that only one option can be selected.

Loading ...
If you think that an important feature is missing from the list, be sure to suggest it by writing a comment. Popular requests from the comment section will be added to the poll.
We hope you'll find such an interactive format to your liking. Thank you for your attention and for your choice!
---
Softinventive products:
Categories