Blog
---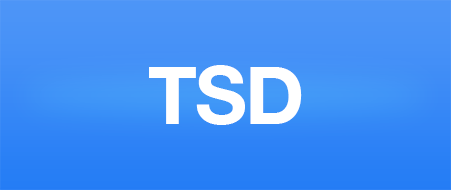 Great news! TNM 2 release is still fresh, but we've already got another treat for you. And this time it's not just a new version, but a proper release of a brand new tool for remote software deployment in local networks: Total Software Deployment!
What can Total Software Deployment do?
To start, TSD offers a simple and intuitive network scanner, borrowed from well-proven Total Network Inventory. It allows to quickly scan all MS Windows computers in the network to be able to start deploying to them. TNI users don't have to bother with scanning and may simply use their TNI Network storage with TSD.
Add any installer to TSD – it will be automatically stored in the Software storage. Then create a deployment scenario and select the computers to deploy to. All that remains is to press Start deployment. Created scenarios are also saved in the Software storage for future use.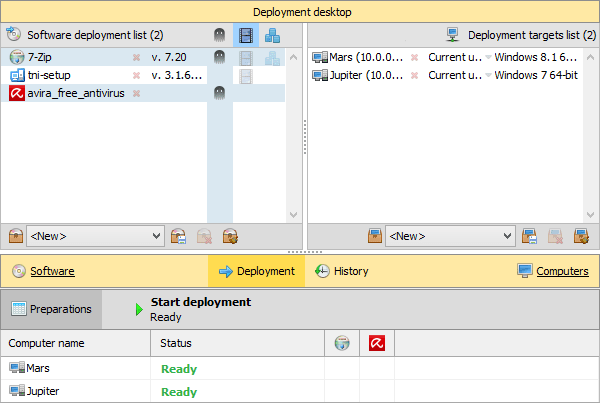 The program can create deployment scenarios for any kind of installer, be it MSI or EXE from a third-party developer.
Versatility is what sets Total Software Deployment apart from other similar products! TSD offers three deployment methods, which can be used for creating deployment scenarios in different situations:
• Silent;
• Macro;
• Sysshot.
To ensure correct operation of the newly created scenario, you'll be able to test it locally before deploying to selected computers.

You'll ask: "How do I know which version is this or that program on a remote computer and does it require an update?"
Total Software Deployment will help you keep your software up to date by automatically scanning your network computers and building a software inventory report. You'll see which programs are installed on each computer, discovering outdated installations at a glance.
And most importantly: remote deployment does not distract remote users from their work!
Detailed information about program features is available on the Total Software Deployment webpage. If you have questions or suggestions, please contact our support.
Licensing policy
By purchasing Total Software Deployment you're getting a lifetime license and free technical support. All types of licenses are already available from our store.
Receive Total Software Deployment free of charge
During a successful beta test, discovered faults were fixed, and task lists were filled with new ideas for future implementation. As promised, all users who actively participated in beta testing by submitting bug reports or feature suggestions, will receive a free license for 25 computers. We'll send out the free licenses next week. If you actively participated in the beta testing program, but haven't received your license within a week, please drop us an email.
And don't forget about the Send Feedback button. Your feedbacks and bug reports made this release possible. Please continue sending them in, so that TSD becomes even better!
---
The new TNI update is here, bringing you the long-awaited SNMPv3 support and a few minor fixes and updates:
BIG FEATURE

Support for scanning of network devices via SNMP v2c and v3.

New

Ability to switch to Change log via keyboard: Ctrl+5.

Improved

Reporting of license usage on the status bar.

Improved

Compatibility with Total Software Deployment when working with the same network storage.

Fixed

SAM: Returned ability to unmerge one software item from a collection.

Fixed

Standard actions "Reboot" and "Poweroff".

Fixed

Scan of SNMPv1 devices.

At last our users who have network devices that don't support SNMPv1 are relieved. They can use the latest and secure version 3 of SNMP protocol to collect information from their devices. Hardware with SNMPv2c support was not forgotten as well. We would be glad to receive your feedback about this new feature.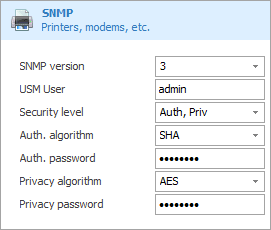 And as always, till next time!
---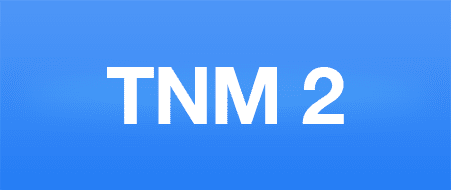 Today we have great news! After a long period of thorough beta-testing, we are officially releasing Total Network Monitor 2.0. This release becomes the first major update since 2010. We've given the product a complete overhaul, having developed a brand new monitoring engine from scratch, redesigned the user interface and re-written the documentation. Was it worth the wait? You tell us!
In this release, we changed the monitoring engine completely. The new engine is able to make better use of the multiple CPU cores, offering smoother performance on today's multi-core CPU's. We also optimized network load to ensure that monitoring does not affect your network operation in the slightest.
In addition to performance and stability optimizations, we built new monitoring features into the engine. The new engine can now work over the secure HTTPS protocol, supports UTF-8 Web pages, and is able to handle HTTP redirects the same way your Web browser does . We've also improved FTP monitoring, adding the ability to specify a custom FTP port to monitor. Finally, we've added the ability to perform checks on a certain file on a remote server to ensure the correct file server operation. If you have more than one system administrator on your network, you can now specify multiple email addresses for email alerts.
The redesigned user interface becomes prettier and more usable. Have a look at the screen shot: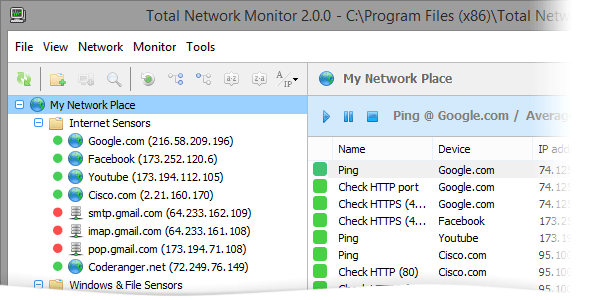 We've added a graphical representation of your entire network, allowing you to glance over the status of your corporate LAN and determine immediately which node needs your attention.
Affordable Pricing
With this release, we slashed the prices. We are literally giving the product away! Even the standard price of $90 per license is a steal, considering that you're getting a lifetime license with unlimited free updates and free technical support. We are offering volume discounts to our corporate customers; please contact us for more detail.
Who Can Get Total Network Monitor 2.0 for Free
If you were part of our open beta testing and actively participated in the program by submitting bug reports or feature suggestions, thank you! In return for your hard work and valuable contributions, we'd like to offer you a free license worth $90. We'll send out the free licenses next week . If you actively participated in the beta testing program but haven't received your license within a week, please drop us an email.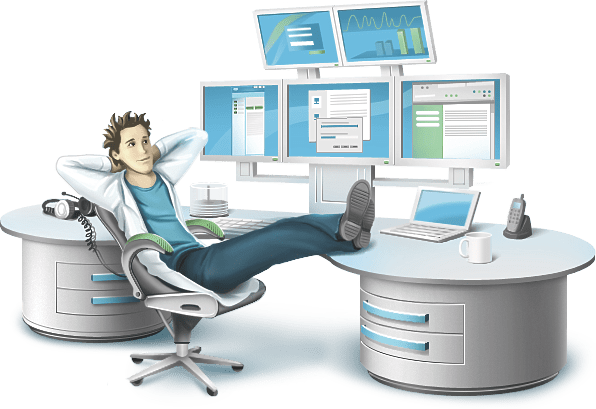 ---
Softinventive products:
Categories